Kell Brook v Amir Khan could take place this summer at Wembley Stadium, says Eddie Hearn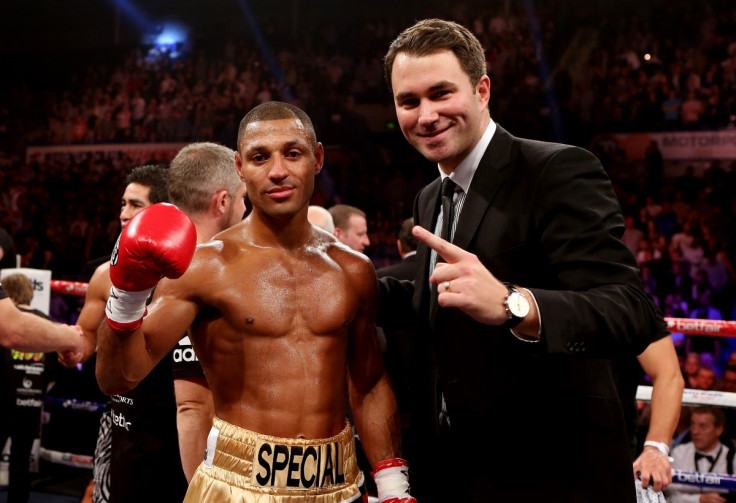 Boxing promoter Eddie Hearn has revealed a much-anticipated fight between Kell Brook and Amir Khan at Wembley Stadium has moved "a little bit closer over the last 24 hours". The managing director of Matchroom Sport, which promotes Brook, has revealed he has been locked in negotiations with Khan's camp about a fight later this year.
Hearn thinks a money-spinning bout at London's Wembley Stadium is the most attractive proposition for Khan. He said, too, that the two camps are getting closer to reaching an agreement on the terms of the eagerly-awaited fight, although he admitted there are still some issues that need to be ironed out.
"I think it has moved a little bit closer over the last 24 hours, but there is still a long way to go. I think when all the options are presented to Amir Khan, he will think that the only fight to make is Kell Brook," Hearn told IBTimes UK on 28 January.
"But, you know, speaking to a number of people from their team over the last few days, I think they want the fight. I think it will get made."
The promoter compared the proposed bout to the long-awaited fight between Scott Quigg and Carl Frampton, which is being held in Manchester on 27 February.
"I think 4 June is the critical point and that's the time for it to get made," he said. "The same with Scott Quigg versus Carl Frampton, you know – this is the time now. Perfect timing, we've got to jump on it. So, hopefully, Brook versus Khan for 4 June."
Before than, Brook will defend his IBF welterweight title against Canada's Kevin Bizier. And Hearn thinks it is a good move on behalf of the Sheffield-born world champion and Khan to each have one more fight before they face each other.
"Neither of them have boxed since May," he said. "So you don't want to go into that fight at Wembley with neither of them having boxed for a year. You're probably not going to get 100% from both of them.
"I'd rather see both of them looking great. I think the likelihood is there is a fight for each of them in March and then 4 June at Wembley."
© Copyright IBTimes 2023. All rights reserved.