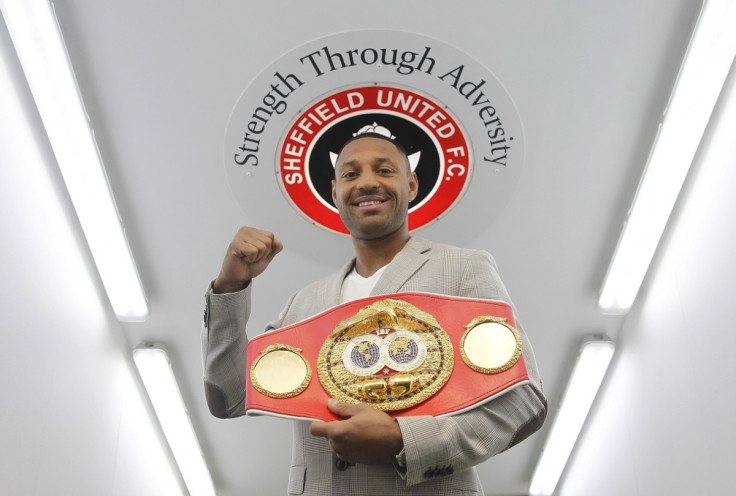 IBF welterweight champion Kell Brook says he wants to punch Amir Khan "even harder" after a Twitter row erupted between the two. Brook is scheduled to make his third defence of the title he won from Shawn Porter in 2014 against Kevin Bizier in March.
On Friday (22 January), Khan criticised his long-term advisory and his choice of opponent in a flurry of tweets, adding Brook had turned down his offer of a summer showdown because he wanted a bigger share of the prospective fight's lucrative revenues. Eddie Hearn, Brook's promoter, responded however by claiming it was Khan who was making the unreasonable demands, asking for a 80% split of the fight's purse. Hearn added Brook was ready to accept a 40-60 split in Khan's favour.
Speaking publicly for the first time since the row, Brook accused the former two-time world champion of lacking respect, urging him to sign a deal to set up an explosive all-British meeting in the summer. But if the Bolton-born fighter continues to stall, Brook is ready to turn his attention to another blockbuster fight.
"If we can't get the kid from Bolton then I'd like to get Danny Garcia in a unification, the Shawn Porter vs. Keith Thurman winner, the Manny Pacquiao vs. Timothy Bradley winner – I just want to have a massive fight in the summer," Brook said at Monday's press conference at Bramall Lane.
"Khan has got no respect for me and that is what makes me want to punch his in the face even harder. For him to dictate terms to me, the champion, makes me laugh. I want that fight, every boxing fan in Britain and beyond wants the fight, even all the other fighters in the divisions want to watch us fight: it's the fight that is being talked about. Nothing would give me more pleasure than putting him on the floor.
"It would kill him losing to me, when he was chasing Floyd Mayweather and Manny Pacquiao he could live with losing to them, but he couldn't lose to me and live with it after slagging me off for years."