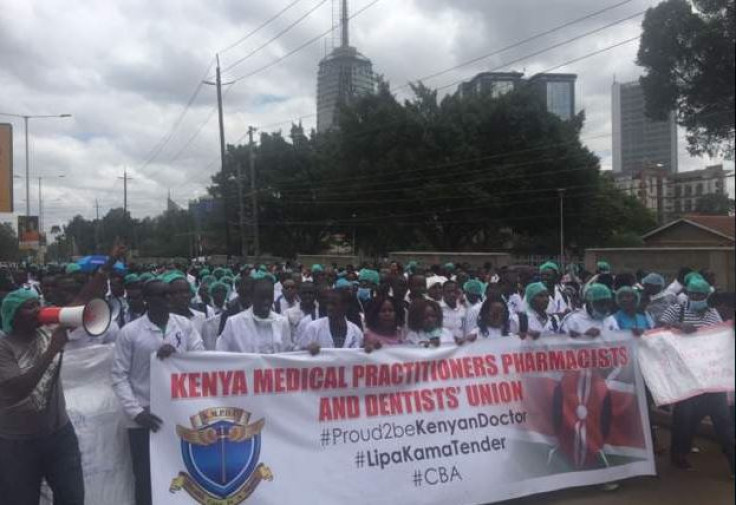 Kenyan police have used tear gas to disperse hundreds of striking doctors and nurses who were marching on the streets of the capital Nairobi to demand the government implement a pay package conforming to an agreement signed by the unions and the government in 2013.
The hashtags #Doctors Strike and #LipaKamaTender (meaning "pay like a tender" in Swahili) were trending in Kenya on Monday (5 December) where a majority of people support the strike against unpaid salaries and terms of work.
But as doctors and nurses at public healthcare facilities started boycotting work from midnight and descended on the streets of Nairobi wearing white gowns and surgical caps, police used tear gas to disperse the crowd, The Nation newspaper reported.
The Kenya Medical Practitioners Pharmacists and Dentists' Union (KMPDU) says the Union and government "need dialogue" to ensure a more "efficient and effective public health" system in Kenya.
Social media users condemned the move. On Twitter, user Charles Kemboi highlighted how "the constitution guarantees freedom of expression", to which @sheongole responded: "So sad that the Kenyan Police think they don't deserve better healthcare service delivery. Just continue inciting doctors!".
Earlier this year, Kenyans called for a reform of the nation's security forces after officers were accused of extrajudicial killings, and graphic footage of police brutality emerged in May and was shared on social media. The hashtag #StopPoliceBrutality was trending across the nation following the publication of footage on social media, apparently showing police lobbing teargas and kicking and beating largely peaceful protesters with truncheons as they tried to flee.
At the time, Human Rights Watch said the footage rekindled memories of the repression in the 1990s, when the then-Kanu administration tried to suppress civil society and the opposition's campaign for constitutional reforms to enshrine basic rights in Kenya's Constitution.
Dozens of mental patients escape hospital
Meanwhile, it was also reported that dozens of patients had escaped from Mathari Mental Hospital in Nairobi as the strike took hold this morning.
"We saw some of the patients jumping over the facility's walls and trying to cross Thika Superhighway," a witness told the Star newspaper. "I hope this is contained before they are hurt."
Hours after the escape, local media reported that some of the patients had been found.
The trending hashtag #LipaKamaTender (pay like a tender) refers to a recent alleged corruption scandal at the health ministry where the government is accused of having paid a contractor in record time. The striking health workers countrywide are demanding the government implement the 2013 pay deal with the same urgency.