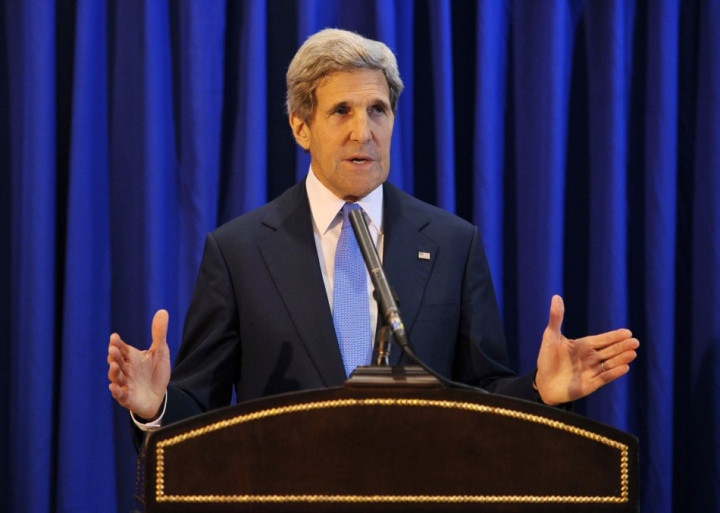 The Palestine-based Sunni Islamist movement Hamas has rejected US Secretary of State John Kerry's claim that the ground is ready for peace talks between Israel and Palestinians.
The outfit, which controls the Gaza Strip, said President Mahmoud Abbas has no "legitimacy" to represent the Palestinian people.
According to AFP, Hamas spokesperson Ihab al-Ghossein said, "The Palestinian people will not accept those who negotiate on its behalf without a mandate".
Abbas's Fatah movement, which governs the West Bank, has said some details are to be resolved ahead of the proposed talks in Washington.
Israeli Prime Minister Benjamin Netanyahu's office said it will wait and respond to the latest move.
Kerry had earlier announced that both Israel and Palestinians have agreed to resume peace negotiations.
The top US diplomat, who is in Jordan, held separate discussions with leaders from both sides before the announcement.
He said both sides "reached an agreement that establishes a basis for resuming direct final status negotiations between the Palestinians and the Israelis".
Hailing the latest move as a "significant" step forward, Kerry insisted the talks are still "in the process of being formalised".
"The best way to give these negotiations a chance is to keep them private. We know that the challenges require some very tough choices in the days ahead. Today, however, I am hopeful," Kerry told reporters in Amman.
He also thanked the Arab League for its contribution to the ongoing discussions.
The last round of talks started in 2010 broke down over Israeli settlements in the West Bank and Jerusalem.
Admitting that the negotiations will be complex, Israeli cabinet minister Tzipi Livni, who is at the forefront of the dialogue process, said: "I am convinced with all my heart that it is the right thing to do for our future, our security, our economy and the values of Israel."
Livni and Palestinian negotiator Saeb Erekat are to travel to Washington in the coming days representing their respective sides. The talks are expected to take place for several months.
The United Nations and the European Union have welcomed the latest development, saying it is a positive move.