Ed Miliband's prospects for the 2015 general election have been given a significant boost as a detailed poll of key marginal constituencies suggests he has a winning 10-point lead over the Tories while the Ukip bubble is likely to shrink if not quite burst.
The results from the survey, by Tory-supporting pollster Lord Ashcroft, put Labour on 40%, the Tories on 30%, Ukip third on 20% and the Liberal Democrats trailing in a poor fourth place on just 7%.
If the figures were replicated in a general election, Labour would gain 83 seats, enough to give the party a comfortable overall majority of around 70, way ahead of the local election polls, which only gave Miliband a 2-point advantage.
It also showed that only half of those now voting Ukip would do so in a general election, with 21% turning to the Tories, 11% Labour and 14% undecided. However, it did not suggest Ukip were on course to win any Westminster seats although it is in second place on 27% in Thanet South, a seat Nigel Farage may choose to stand in.
On the big election issues, 48% said it was the economy, 35% and 34% said immigration and health respectively and 31% said the cost of living, suggesting Ukip's big issues of migration and Europe will not play as strongly as in recent local and EU polls.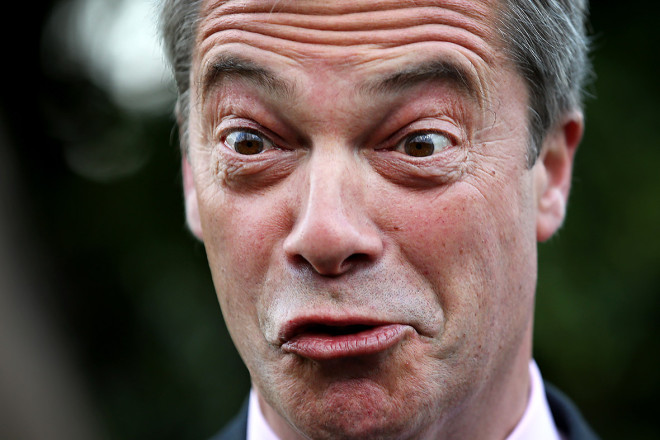 However, the survey also highlighted the "Miliband factor" that is troubling many in Labour, with only 29% favouring him as prime minister over David Cameron.
Nevertheless, the overall picture is a much-needed boost for Labour just as its post-local elections inquest saw Miliband continuing to face flak from figures on his own side who claim he was a drag on the party and had led a second-rate campaign.
It also served as a warning to David Cameron that the local election results and national polling figures which suggest he is narrowing the gap with Labour, or even breaking into a lead, may be painting a false picture.
The poll came just 24 hours before the results of the European parliament elections are expected to show another good performance for Ukip, with Farage predicting they will come first by share of the vote.
If the Ashcroft poll were echoed in a general election, Ukip would fall back from its current position but be strong enough in some areas to cause both the main parties serious trouble, with slightly more difficulty for the Tories.
It is in the crucial Labour-Conservative seats that the election will be decided and Ashcroft polled 1,000 voters in each of 26 of those constituencies to gain an overall snapshot of the current state of play.
As usual, his survey was one of the most detailed and eagerly awaited of any such polls and the Tories were already bracing themselves for bad news.
No one believes the results amount to a prediction of what will happen in a year's time, but they do help strategists concentrate their fire on the most important areas and issues.
Meanwhile, as Miliband fought off attacks on his leadership style, dissident Tories attacked Cameron and continued to demand pre-election pacts with Ukip to maximise the right-wing vote.
Chancellor George Osborne, speaking at a conference organised by the influential ConservativeHome website, again ruled out such deals but insisted he respected those voters who had backed Ukip.
He said the Tory response would be "listening, responding and delivering".
However, there remains precious little detail of exactly how the two big parties will actually combat Ukip beyond offering louder versions of their existing messages.
They are preparing themselves for more bad news on Monday morning when the EU results are announced,.
But the Ashcroft poll offers them some relief that, however well Ukip does, it is unlikely to perform as strongly in next year's general election.