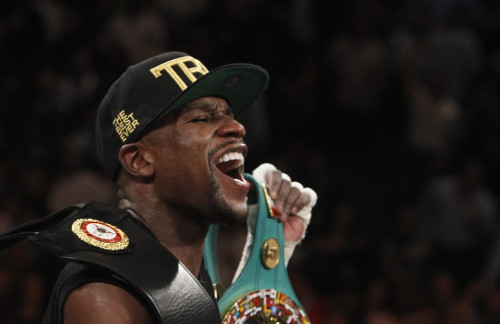 Floyd Mayweather Jr has asked fans on Twitter to decide whether he will step into the ring with Amir Khan or Marcos Maidana in his next fight.
The unbeaten five weight world champion is next scheduled to fight in early May in Las Vegas and there has been intense speculation as to who his opponent will be.
Bolton–born Khan has been the favourite to take on the 36-year-old since last December when his clash with Devon Alexander was shelved. But following his victory over Adrien Broner Argentine Maidana is also considered a strong candidate for the Las Vegas showdown.
With the prospects of an imminent clash with Manny Pacquiao fading quickly, Mayweather is prepared to let his fans decide whether it will be Khan or Maidana challenging him later this year.
I'm going to let the fans vote. Tell me who I should fight next. Khan or Maidana? http://t.co/342WnS26Vz

— Floyd Mayweather (@FloydMayweather) February 3, 2014
Khan has openly spoken of his desire to step into the ring with Mayweather for his next fight, having thrown himself back into contention following his win over Carlos Molina in late 2012 and an unanimous points decision over Julio Diaz in Sheffield in April last year.
The 27-year-old would now appear to be solely focused on challenging the best pound for pound fighter in boxing. "I have been training very hard for the past 8-10 weeks," Khan said. "My next fight will be in May 2014 and I hope it's against Mayweather.
"My team are working to make this happen, but I am not focusing on it. My aim is to focus on my training and get as fitter and stronger as I can."
But Maidana also has intentions of dislodging the unbeaten Mayweather and gave his prospects a telling lift after knocking Adrien Broner down twice en route to inflicting the American to his first career loss to lift the WBA welterweight crown two months ago.
While a super-fight between Pacquiao and Mayweather has long been mooted, a meeting between the two appears unlikely while the Filipino fighter is still contracted to Top Rank promotions.
Mayweather recently declared he would never step into the ring with Pacquiao while his ties with Top Rank are still intact, with the Michigan-born fighter still holding a grudge after his acrimonious split with Bob Arum's company in 2006.