Kiev Protests: Ukrainian Soldiers' Mothers Ask Sons to Keep Away from Crackdown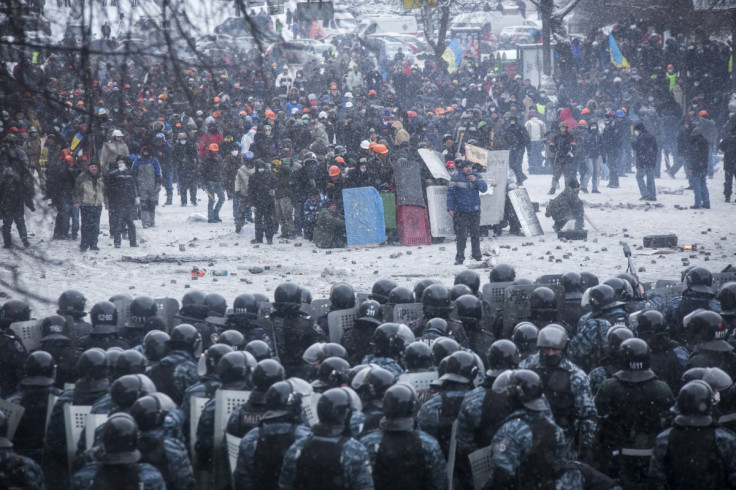 Some mothers in the Ukrainian town of Lviv are stopping their sons, who are serving as soldiers, from participating in the government's crackdown on protesters in the capital Kiev, even as the main opposition group has set a 24-hour ultimatum to President Viktor Yanukovych to step down.
The soldiers' mothers are urging them to keep away as they will eventually be asked to open fire at the protesters.
In Lviv, located 500kms from the Ukrainian capital, the mothers are braving the bitter cold – as low as minus five degree Celsius – while they hold placards against the soldiers' participation.
Soldiers and riot police are being confronted by the protesters for taking the side of the government.
Lidiya Semerenko, a soldier's mother, who was protesting in Lviv, said her son was badly beaten up by the protesters. Semerenko told Euronews: "His attackers accused him of being a pro-government thug who attacked demonstrators. He was beaten up. My son is 25.... I'm scared for him."
Ukraine has been witnessing fierce anti-government protests for the past two months after the government failed to seal a landmark pact with EU.
At least two protesters have been shot dead by the troops so far in the clashes.
Crisis talks between the government and the opposition have ended in a deadlock raising fears of intensified protests.
"You, Mr President, have the opportunity to resolve this issue. Early elections will change the situation without bloodshed and we will do everything to achieve that," opposition leader Vitali Klitschko told a 40,000-strong rally in Kiev's Independence Square.
Klitschko threatened to lead the rally against Yanukovych, if he fails to call for snap elections.
"If Yanukovych does not make concessions, then tomorrow [Thursday] we will go on the attack," he said.
Other Ukrainian opposition leaders have also echoed Klitschko's demands.
"If this does not happen, we will march forward together. If it's a bullet to the head, then it's a bullet to the head," said Arseniy Yatseniuk.
© Copyright IBTimes 2023. All rights reserved.