Kim Jong-un's Uncle 'Starving Dogs' Execution Report Raises Scepticism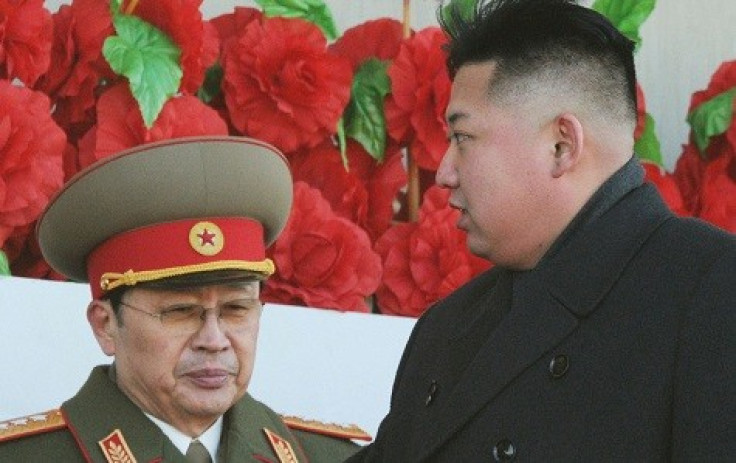 A report on a Beijing-controlled Hong Kong newspaper that claims the uncle of North Korea's leader Kim Jong-un was executed by being devoured by 120 starving dogs has raised a controversy among experts and journalists over its credibility.
The detailed account of the brutal execution of Jang Song-thaek was revealed by Wen Wei Po, which acts as an official mouthpiece for mainland China. According to the report, Jang Song-thaek was stripped naked and thrown into a cage with his aides.
Then, 120 dogs which had been starved for three days, were "allowed to prey on them until they were completely eaten up," according to the Straits Times.
The grisly affair lasted an hour and was monitored by the dictator and 300 senior officials.
However, the account raised eyebrows on social media. The single-sourced report could not be independently verified and some experts questioned whether China was using the Beijing-controlled newspaper Wen Wei Po to spread anti-North Korea propaganda.
"The fact that it appeared in a Beijing- controlled newspaper showed that China no longer cares about its relations with the Kim regime," The Straits Times, a Singapore newspaper, reported.
Padraig Reidy, senior writer at freedom of expression group Index on Censorship said he was "extremely sceptical" about the report.
South Korea's spy agency said Kim's uncle was executed by machine guns, as reported by AFP Hong Kong correspondent Jerome Taylor– although North Korea's official news agency did not give any accounts on the event.
A lot of news outlets following up on the North Korea death by dogs line despite the very dodgy sourcing: a Chinese paper weeks ago

— Jerome Taylor (@JeromeTaylor) January 3, 2014
Max Fisher, foreign affairs blogger at the Washington Post, tweeted:
Furthermore, in a recent survey on Hong Kong's media credibility conducted by Chinese University, Wen Wei Pow was ranked 19<sup>th out of 22 papers.
As Taylor Washburn said on Twitter:
Absent confirmation, I'd say that report should be taken w/ same shaker of salt generally applicable to lurid stories out of the DPRK.

— Taylor Washburn (@washburnt) January 3, 2014
Kim referred to his uncle in his New Year address saying that North Korea had got rid of the "factional filth" that permeated the Workers Party.
In 2013, the KCNA official news agency released video showing the symbolic killing of an effigy of former South Korean president Lee Myiung by several dogs.
Academics and experts on the reclusive country maintained that the Wen Wei Po report had some credibility.
Aidan Foster-Carter, honorary senior research fellow in sociology and modern Korea at the University of Leeds, told NK News that the story "might be true" but more information was needed.
Another expert, Leonid Petrov of the Australia National University in Canberra, said: "It sounds credible, particularly given the horror stories coming out of North Korean labour camps where [political prisoners are fed to] dogs.
"The system is built on fear and works only when both the elite and the grass roots are scared and docile. Uncle Jang was handpicked to serve simultaneously as a scapegoat and a scarecrow for the regime."
© Copyright IBTimes 2023. All rights reserved.