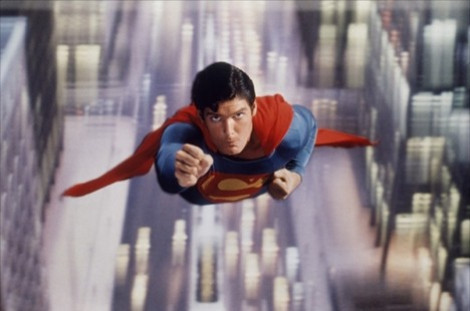 A Superman costume worn by Christopher Reeve - complete with red underwear worn on the outside - is among the vintage memorabilia going under the hammer at an auction in Los Angeles.
The actor, who died in 2004 after being paralysed in a horse-riding accident, famously sported the distinctive red and blue ensemble in 1987's Superman IV: The Quest for Peace.
Among the other lots are a laser gun used by William Shatner in his role as Star Trek's Captain Kirk; a biking costume signed by the daredevil stuntsman Evel Knievel; the gown that Glenn Close wore to the Oscars in 1990; a cocktail dress that belonged to Marilyn Monroe; and a bomber jacket belonging to Steve McQueen.
The two-day sale, which began on Friday 5 April, takes place at Julien's Auctions in Beverly Hills.
Shatner's phaser gun is estimated at $60,000 (£39,400), while the Superman costume is valued at £20,000.
"There are some beautiful couture outfits worn by Brittany Murphy, and an outfit worn by Kim Kardashian," said Julien's executive director Martin Nolan.
He estimated most items will fetch up to three times their starting price.
Recalling a past sale at Julien's, an auction house noted for its celebrity events, Nolan added: "I remember one time when we were working with Cher, and Cher asked us, you know how can she make herself more valuable.
"Darren Julien, the president of the company said to Cher, 'Well, if you die, then you're more collectible,' but obviously, thank God Cher is still with us and still among the living."
Collector Michael Eisenberg said that amassing Hollywood memorabilia had been an interest since before the days when items fetched a high price.
"When I first got into it, it was, 'come and get this crap'," he said. "The studios didn't want it, it was taking up space. They were paying taxes on the asset to carry it. They were doing controlled burns, they were taking stuff out to the desert and burning it."
He said that an outing with one collector's item had landed him in a spot of bother.
"I got pulled over driving the Batmobile. It's not licensed. There are no plates. It's kind of hard to register a Batmobile.
"I got it out, took it on Sunset Boulevard and within 10 minutes, I was pulled over. I thought it was going to go really bad, but it was more than a photo op. I think everybody from the department had come out to be photographed with the car."