The heavyweight landscape has been ruled over by two Ukrainian giants for the best part of a decade as numerous contenders have fallen by the wayside, cruelly dismantled and dismissed in calculating fashion.
American heavyweights, so often the benchmark in this division, have fallen well short with Chris Arreola, Corrie Sanders, Shannon Briggs and Eddie Chambers all losing their title contests. Whether it is Vitali or Wladimir, the result has been the same - a Klitschko victory.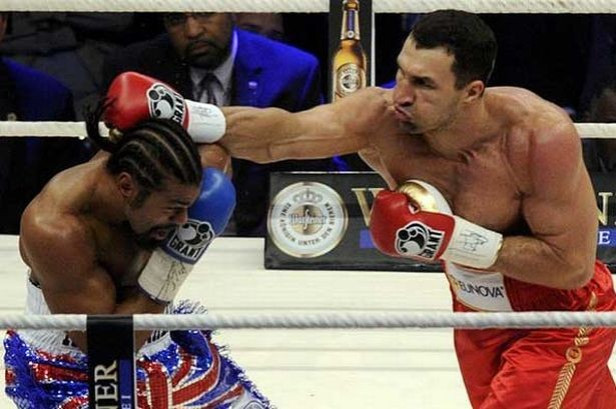 With Vitali now looking increasingly likely to call time on his career, it is assumed that his WBC could well be vacated and his younger brother could well decide to add that belt to the WBA, IBF and WBO ones he already owns.
Wladimir is 36-years-old and appears simply to be getting better with age. He schooled David Haye over 12 rounds before crushing Jean Marc-Mormeck and Tony Thompson inside six rounds.
So are there any heavyweights who can mount a serious challenge and dethrone Dr. Steelhammer. In England there are three fighters who truly believe they are the virus that the doctor will be unable to overcome.
David Haye still believes he deserves a second chance having blamed his loss on a toe injury which he said limited his movement and ability to throw power punches. However, the two interesting fighters making headlines are David Price and Tyson Fury.
Both men are taller than Wladimir, with Price a toweing 6ft 8", while Fury is even bigger at 6ft 9". The giant heavyweights boast unbeaten records and are on course to force their way into the title reckoning.
Fury's promoter Mick Hennessey said back in November last year that his fighter had all the tools to beat one of the Klitschkos and become the new heavyweight champion.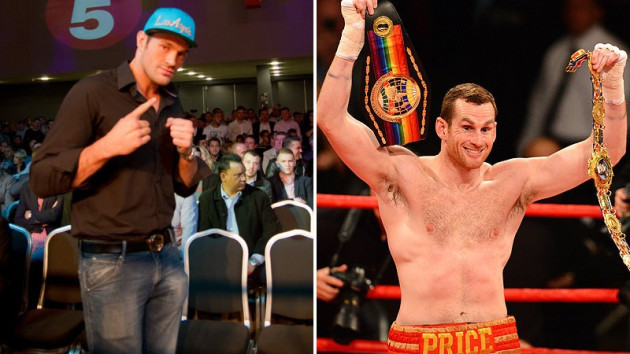 "I honestly believe he could beat (WBA champion Alexander) Povetkin tomorrow. But he's looking bigger than that, he's better than that," Hennessey said. "He wants the Klitschkos. So 18 months from now he'll beat the Klitschkos."
That suggests that within the next six months Fury will be ready to challenge for the biggest prize in boxing. Still a relative novice with just 19 bouts (14 KO's), he is ranked number seven by boxing website boxrec and number four by the WBC.
Price does not feature in the top ten under any organisation but his brutal record of 14 wins with 12 coming inside seven rounds, proves that he is a genuine contender. In his previous interviews he has stated that he believes he can beat either Klitschko, having been to their camp in Germany to spar.
"Wladimir is a brilliant athlete. Physically he is in superb shape and you can see just how good he is as with his footwork, movement and punch power. But that is against shorter opponents and would he be able to do that against a bigger opponent who could punch?" posed Price, before answering his own question with an air of confidence.
"He hardly ever gets hit by these smaller guys so I believe I would land more punches than his last three opponents have managed in total. You don't know till you're in there but I want to be ready to beat him when I do fight him."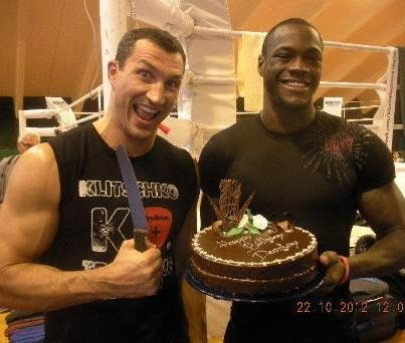 One man Price and Wladimir know well is American heavyweight Deontay Wilder. The 27-year-old is another giant, standing at 6ft 7" and boasting an impressive record of 25 wins all coming by the way of knockout. He has sparred with the British heavyweight and is currently helping Klitschko prepare for his next contest.
Despite rarely being challenged, his opponents have been little more than journeymen so far, Wilder has the ability and power to upset any fighter. He has also received words of encouragement from Wladimir who states he is the fastest heavyweight he has even faced.
"My sparring partners being tall is not the end of it, the most important thing is that they could fight well. I had excellent rounds of sparring with Deontay Wilder. He is a young and talented boxer, who certainly is one of the future stars in the heavyweight division. The competition in the training, with the sparring partners was a great challenge for me. Fighting with them have me pleasure," said Wladimir.
There are two more fighters with unbeaten records who could soon have the chance to challenge Wladimir. Russian Denis Boystov is ranked number one by the WBO, while former American football star-turned boxer Seth Mitchell is number two.
Mitchell has impressed everyone with his rise in the sport having only turned professional at 25, after just 10 amateur bouts. The heavy-hitting American admitted to IBTimesUK that he believed it was time for someone to finally defeat the Klitschkos.
"I feel I am part of a new generation of fighters coming through and at some point one of us is going to have to step up and dethrone the Klitschkos," said Mitchell.
Boystov boasts an impressive record of 31 wins, but like Wilder he is yet to be tested. At 6ft 1" he is considered short and stocky which makes him equally explosive. He is set to face Tyson Fury in Belfast in what could be an eliminator to see who faces Wladimir Klitschko.
If all these boxers fail then it seems MMA star Junior dos Santos believes he could beat Wladimir.
"I could beat that guy, man," Dos Santos said. "Maybe not easy, but I could knock him out. I watch a lot of fights with Wladimir, and I see a lot of holes."
It is clear that the boxing world is crying out for a heavyweight to become genuinely excited about. If one of these mentioned can finally dethrone the Klitschkos then they will instantly become a hero.