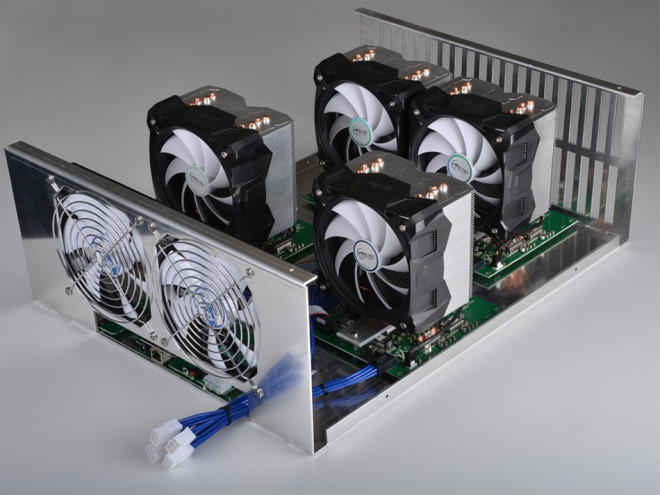 KnCMiner, the Swedish company which calls itself "the most trusted brand in Bitcoin mining", has announced it will offer all customers who have ordered its most powerful bitcoin mining rig, Neptune, a second machine absolutely free.
While the offer, which KnCMiner says is worth $6,000 (£3,570), sounds appealing, the move is seen as an attempt to appease the company's customers who are angry at long delays in getting their hands on the Neptune mining rig, which was launched five months ago.
The Neptune mining rig was launched last December, promising to mine over two bitcoins per day. At the time that was worth over $2,200 but with bitcoin's price falling in the last four months, it would now be worth just over $900.
However, the difficultly of mining bitcoins has also increased in that time, meaning it is unlikely that the Neptune machines launched in December would be able to mine two bitcoins every day.
The offer is open to any customer who has ordered the first or second batch of Neptune mining rigs, which promise three terahashes of power with a 30% power reduction compared to the company's other bitcoin mining rig, the Jupiter.
Anger
However, despite launching in December, KnCMiner has yet to ship any Neptune mining rigs to its customers leading to a lot of angry bitcoin enthusiasts and entrepreneurs who were looking to capitalise on the increasing value of the cryptocurrency.
On the BitcoinTalk forums there are multiple posts from KnCMiner customers who have become frustrated at the delays in shipping the Neptune mining rigs and some customers report having problems getting their money refunded when they try and cancel their orders.
When IBTimes UK asked KnCMiner CEO Sam Cole if the latest offer was an attempt to appease angry customers, the under-fire chief executive sidestepped the question, saying:
"We are doing this to show support for our existing customers, to show that we do want them to win the increasingly difficult game of mining. The fact that the landscape has changed in the last six months and the industry is vastly different now means we need to do this in order to stay on top and provide the best possible products to our customers."
Jupiter issues
The company is also facing issues with its Jupiter mining rigs, and has issued a recall on the recently shipped units, admitting it "really messed up."
The bitcoin mining business has gone from millions of people being able to mine the cryptocurrency on their laptops to highly professional and expensive mining operations which are generating millions of pounds' worth of bitcoin every month.
The company has been quick in recent months to boast about the amount of money it has taken in orders for its bitcoin rigs, as well as its new scrypt mining rigs, but it seems the company is struggling to fulfil the demand for its products in a timely manner, something which is vital in the bitcoin mining game.