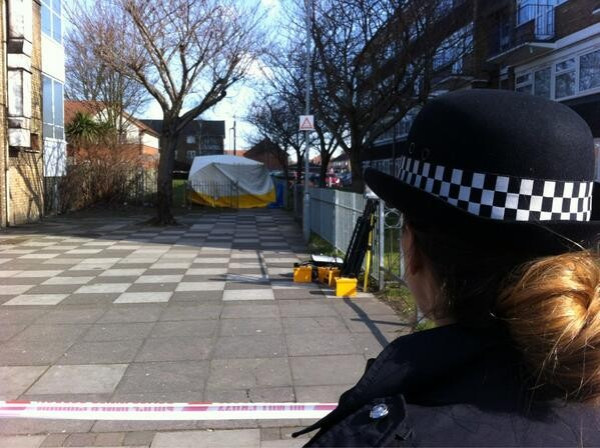 A teenager has been shot dead near a block of flats in Edmonton, north London.
Police and ambulance crews found a 19-year-old man with injuries in Bounces Road.
The victim died on the pavement in a residential area. Reports indicated he was alive when police and ambulance crews arrived but they could not save his life.
No arrests have yet been made. Scotland Yard said that the victim's family had been informed.
A police spokesman said: "A 19-year-old man was found with injuries. He was pronounced dead at the scene.
"Next of kin are aware. A post-mortem examination and formal identification will be scheduled. Inquiries continue and there have been no arrests."
Reports initially suggested that the victim was 15, before his true age was confirmed.
Edmonton is a deprived neighbourhood in the outer London borough of Enfield, where several teenagers have been killed in street violence in recent years.
The grim death toll has earned Edmonton the moniker "Shank Town". "Shank" is slang for a blade.
The latest killing was labelled tragic and frightening by community activist Hazel Nelson-Williams, founder of the Nelson Williams Foundation.
"My heart goes out to the parents of this boy that he should lose his life like this," the mother and Edmonton resident told IBTimes UK.
"This is absolutely tragic. It's really frightening that a gun was used.
"I know Enfield council and the police have been doing good work trying to help young people to avoid such things and ways of life."
A London Ambulance Service spokesman said: "Extensive efforts were made to resuscitate the patient but he was pronounced dead at the scene."
Nelson-Williams set up her foundation to tackle Edmonton's gang culture, and said the problems her community faced were "deep-rooted".
"The pressures young people face are many, including the perception that they are rejected by the mainstream community, that they live in it but not feel part of it," she said.
"Sometimes young people just want people to talk to them. When we see young people dressed in hoods we assume they are trouble, but this is not always the case."