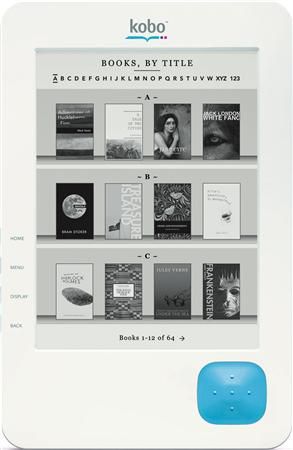 Kobo Inc's lite e-Reader is set to bring eBooks to the 'budget' market by significantly undercutting rivals at a price of £99 ($149).
Their e-reader which has already been announced for USA, Canada and Australia does not yet have a release date for UK, however has over 100 publishers signed up in Australia where it launched May 19.
The price of an e-reader has come down considerably from £199 and £249 - the prices currently offered by Sony - as manufacturers seek to bring the media format to larger mass markets.
The e-reader by Kobo, which features a 10 inch screen though weighs only 221 grams is a competitive product when compared to Sony's Reader Pocket Edition and the Kindle by Amazon which cost in the region of £199 and feature only six inch screens.
'Designed with the reader in mind' the Kobo is said to have a pretty interface that allows users to see book covers on the shelf - a technique that Apple uses for its iBooks app, whilst significantly reducing the price (an iPad typically costs £429).
"The build is clever, with a quilted, vinyl back and the option to skin the face with a cloth or leather facade." said Gizmodo, the information source which famously leaked Apple's next generation iPhone.
"The device openly supports EPUB or PDF transfered over USB (they have their own store if you want to use it), and Bluetooth allows you to sync what you're reading across devices loaded with Kobo's app".
The Kobo goes on sale this Summer in USA.
A detailed specs can be found here.