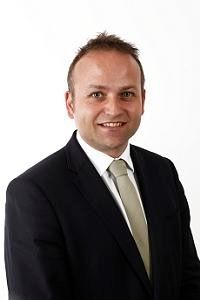 Labour MP Neil Coyle has received a death threat on Twitter after he backed British air strikes against the Islamic State (Isis) in Syria. Mr Coyle, who represents Bermondsey and Old Southwark contacted the police after receiving the threatening tweet, which included emojis of knives.
The message which was later deleted read: "@coyleneil , u voted for air strikes in syria [sic] , if i see u round ends." Mr Coyle, 36, said another troll told him he will need permanent security from now on after he backed David Cameron's call for RAF air strikes.
The politician is on a 'traitor list' of 66 MPs threatened with deselection by left-wingers, following the controversial vote to launch air strikes against IS in Syria. He told the Mail Online: "I've gone to the police over this threat. I'm no traitor - I voted with my conscience just like Jeremy. I have received several threats to my safety and have flagged one to the police. It's a first for me to be threatened with violence by people claiming to be pacifists."
At least three MPs have received similar death threats on social media following the Commons vote. Hilary Benn's rousing Commons speech inspired many undecided Labour MPs to back David Cameron's call to launch air strikes, but also sparked threats from trolls. One tweet warned: "Hilary Benn will never walk the streets of Leeds unprotected again. #criminal #Tory."
Pro-bombing Labour MPs have been targeted by anti-war protesters who bombarded them with pictures of dead Syrian babies and severed heads at their constituency offices. Focusing their abuse on young female MPs, party trolls are calling those who voted to bomb IS in Syria last night 'Red Tories', 'baby killers' and 'mass murderers'. Stella Creasy had 500 people march on her constituency office in Walthamstow ahead of the Syria vote and one troll told her today: "We're going to deselect you. You're worse than Isis".
The air strikes vote has revealed deep divisions within the Labour Party. Left Unity, which supports Jeremy Corbyn, but is not part of the Labour Party, has published a full list of those backing military action on Twitter under the heading "warmongers", urging members: "Deselect them now".
Earlier on Thursday, Labour veteran Ken Livingstone had suggested that those Labour MPs who defied their leader and backed military action should be pushed out of their seats. The former mayor of London, who was controversially put in charge of the party's defence review, told LBC: "If I had an MP who had voted to bomb Syria then I would be prepared to support someone to challenge him."
Stephen Doughty, the shadow foreign affairs minister, has described Mr Livingstone's remarks as "utterly inappropriate".
Responding to the online threats, Jeremy Corbyn and his deputy Tom Watson have emailed party members asking them not to harass MPs, their staff or their families warning that "abuse and intimidation have no place in politics". They said: "Our guiding principle is that Labour must never make Cameron's mistake. Politics must be conducted in a better way - more civil and more respectful."
"We all support and defend the democratic right to protest and lobby. And all MPs must be open to hearing the views of their constituents and others on matters of public importance. But, as we have both said many times, abuse and intimidation have no place in politics. And the party as a whole will not accept such behaviour, from whatever quarter it comes."
Those remarks were echoed by Chris Bryant, shadow leader of the House of Commons, who added: "Many people have, over the last few days, hurled a great deal of abuse at members for their views on whether or not the House should vote for extending air strikes to Syria. "Some have been called murderers, peaceniks, terrorist sympathisers ... no MP should ever be intimidated."
Several MPs condemned Corbyn's supporters for attempting to intimidate party members. Jess Phillips, MP for Birmingham Yardley, said: "People using Syria for their political ends to get rid of MPs are utter scum. You are colluding with your enemies." Diane Abbott MP, shadow international development secretary cautioned: "Sensible arguments persuade, not intimidation."
Police officers will be outside Neil Coyle's constituency tomorrow after he expressed his concern for the safety of his staff, volunteers and his wife.