Ed Miliband has unveiled Labour's pledges at the party's last major gathering ahead of the UK's general elections on May 7.
The five pledges cover the economy, NHS, immigration and tuition fees, and a promise to raise living standards if Labour wins a majority at the election.
Speaking to 1,500 party activists at a pre-election rally in Birmingham earlier today, Miliband said the impending election was "not simply between parties and leaders, but different versions of our country".
He also said: "Today I urge the British people to choose optimism, to choose a country for the many, to choose the good of all, to choose hope – and to recognise that when working people succeed, nothing can stop us as a country."
Miliband denounced the nominal rise of the national minimum wage by 70p in the last five years and vowed to increase it to more than £8/hr, should Labour win. Currently the minimum wage for workers over the age of 21 is £6.50.
He also promised to increase living standards for working families by putting stopping "exploitative" zero hour contracts, providing 25 hours of free childcare to three and four-year-olds, and stopping energy prices rising until 2017.
The pledges Labour announced are:
A strong economic foundation.
Improve living standards for working families.
Using a "mansion tax" to add 20,000 nurses, 8,000 doctors, 5,000 care workers and 3,000 midwives to NHS staff.
Immigration control.
Reducing university tuition fees from £9,000 to £6,000.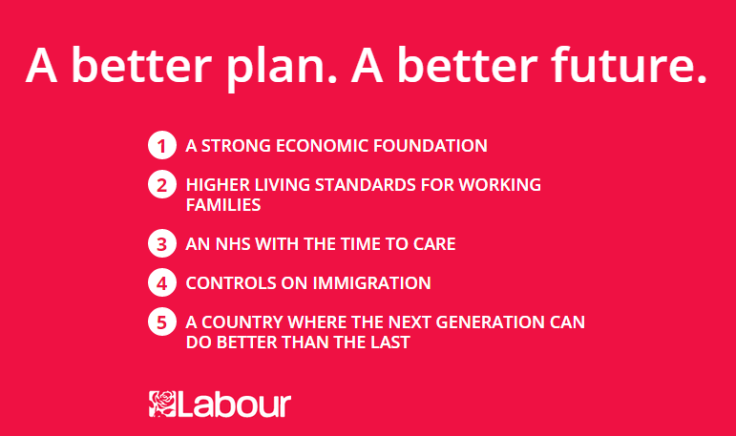 Retaliating to the speech, Conservative Party Chairman Grant Shapps said: "The real choice at this election is between the stability and strong leadership of David Cameron and the Conservatives working to a long-term economic plan, securing a better future for Britain.
"Or Ed Miliband carried into Downing Street in the pocket of Alex Salmond and the SNP – meaning more borrowing, more debt, higher taxes and weaker defences."