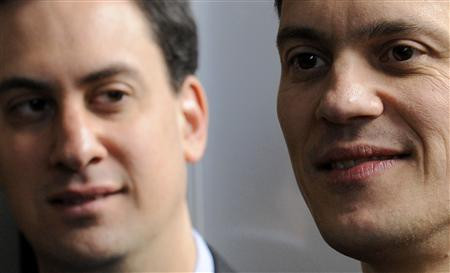 Supporting nominations for candidates to replace Gordon Brown as leader of the Labour Party have closed and the race looks likely to be a fraternal battle between brothers David and Ed Miliband.
Elder brother David seems to have slightly more support in the party, however Ed stands with some of Britain's biggest unions (and Labour's biggest donors), such as Unite, GMB and UNISON behind him.
Neither Dianne Abbott nor Andy Burnham look likely to win the race, while Ed Balls seems to have had a disappointing campaign after he failed to gain the support of the unions which were expected to rally around him.
However Balls, Burnham and Abbott are still likely to play a significant role in the election of the Labour leader, even if they do not win.
The vote will be conducted using the AV electoral system and as such the losing candidate's second preference votes are likely to be decisive in choosing the final leader, should it come down to a run-off between the two Milibands.
In such a situation the three losers could find themselves and their supporters being courted by both David and Ed who may view the endorsement of whoever comes third as the "killing blow" that would bring in enough support to make one of the two the final winner.
The final vote for Labour leader will take place in September and the result will be announced on 25 September at the Labour Party Conference.
The five candidates have received the following nominations from MPs, MEPs, Constituency Labour Parties (CLPs), Trade Unions (TUs) and Socialist Societies (SSs):
Diane Abbott
MPs: 33
CLPs: 20
MEPs: 0
TUs: 2
SSs: 1
Andy Burnham
MPs: 33
CLPs: 17
MEPs: 0
TUs: 1
SSs: 0
Ed Balls
MPs: 33
CLPs: 44
MEPs: 1
TUs: 0
SSs: 1
David Miliband
MPs: 81
CLPs: 165
MEPs: 6
TUs: 2
SSs: 1
Ed Miliband
MPs: 63
CLPs: 148
MEPs: 6
TUs: 6
SSs: 3