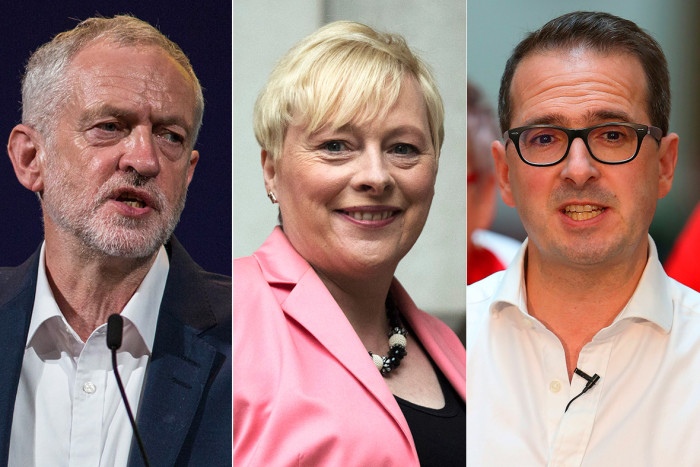 Rival candidates in Labour's leadership contest Angela Eagle and Owen Smith are reported to be close to making a deal to take on current leader Jeremy Corbyn so as not to split the moderate vote. The news comes as a two-day window opens for people to be able to register as Labour members for £25 ($46) and cast a vote. The deadline is 5pm on Wednesday (20 July).
The contest was sparked when Corbyn lost a vote of no confidence among his colleagues. Although 80% of the Parliamentary Labour Party (PLP) want Corbyn out, hundreds of thousands of mostly newer Labour members voted for him last time around and may well do so again. With both Eagle and Smith standing, the anti-Corbyn vote would be diluted and potentially leave him as the clear winner and possibly causing irrevocable damage to the party.
During hustings Yvette Cooper MP suggested whoever attracts fewer votes from fellow Labour MPs could consider standing aside. Angela Eagle is then reported to have said the person with the least support was Corbyn.
"There is one candidate currently on the ballot with no nominations," said Cooper, according to the Guardian. "There are two other talented candidates seeking nominations. I am worried there are too many divisions already in the party so we need a single unity candidate."
The Telegraph is reporting that Eagle and Smith will announce which of them is to stand after nominations are revealed at 6pm on Wednesday. Former shadow minister Wayne David told the newspaper that it seems the momentum is now with Smith.
"I believe that Owen is getting more support inside the Parliamentary Labour Party and amongst the membership as a whole," he said. "I think that it's important therefore that that is recognised and that he be the sole candidate against Jeremy."
Corbyn suffered a humiliating defeat in Parliament tonight as MPs voted overwhelmingly (472-117) to renew Trident. Many Labour MPs not only voted against him but heckled him for departing from the party line.
However with hundreds of thousands of supporters behind him, Corbyn remains defiant. He has taken out a full page advert on the back of The Guardian on 19 July with the slogan: "I'd rather be fighting the Tories."