Labour leadership crisis: Emily Thornberry insists Jeremy Corbyn can be next Prime Minister
Angry exchanges on Question Time in the aftermath of the historic Brexit vote on 23 June.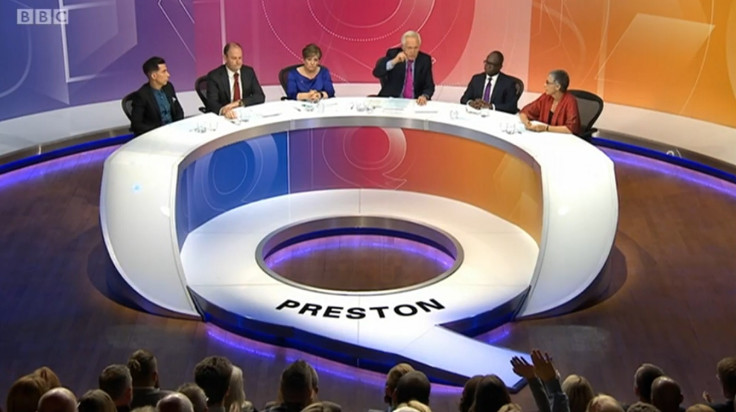 Labour MP for Islington South, Emily Thornberry, insists beleaguered party leader Jeremy Corbyn is the right man to lead not just the party, but the country as a whole as the UK begins to negotiate its terms of departure following the historic Brexit vote on 23 June.
Thornberry, one of the few recognisable figures left in Corbyn's shadow cabinet, also denied claims by fellow panellist, Melanie Phillips, that Labour had become an "Islington dinner party club" with no relevance to the wider electorate. Thornberry also denied claims that the Labour party was on the verge of splitting.
Also on the panel for the programme, which was broadcast live from Preston, were Ukip's sole MP Douglas Carswell, Conservative MP for East Surrey Sam Gyimah and comedian Russell Kane. Carswell sought to separate himself from the infamous Breaking Point poster and claims that leaving the EU would mean an extra £350 million a week for the NHS - claiming he'd only ever said £100m. Carswell also said it must be made clear to immigrants who are EU citizens that they are welcome and can stay.
Kane, in an intelligent and insightful performance (unlike the histrionic display by Eddie Izzard a few weeks back), spoke about how his whole family (apart from him) had voted to leave because of immigration. Kane wanted to know why the left found it so hard to talk about immigration, meaning only the far right would speak about the subject.
The surprise decision by Boris Johnson not to stand and by Michael Gove to change his mind was also discussed. Kane wanted to know why he should vote for Gove after the former education secretary had spent a year saying he'd be useless in the job. Some in the audience were sad to see the back of David Cameron, suggesting that at least he'd done what he'd said he would do - at great personal risk - and should be allowed to have an input. However, Gyimah said that would have been impossible as he'd lost the referendum.
There was also anger by some audience members at the way the leave camp had been portrayed by the media and remain politicians. One made the point that not everyone who'd voted Brexit was racist and uneducated. There was also a sense of drift - the government wasn't governing and needed to help bring back a nation which has become increasingly divided, with families falling out and vicious comments from both sides.
Overall, the mood on the programme was less angry than might have been expected and a lot more sombre - perhaps reflecting the national mood in these strange and worrying times.
© Copyright IBTimes 2023. All rights reserved.