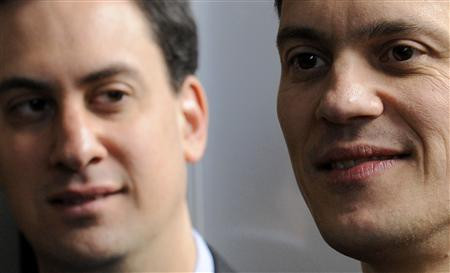 David Miliband received more than four times as much in donations for his campaign to be Labour leader than his nearest rivals, the Electoral Commission has revealed.
Mr Miliband received a total of £185,000 in donations during the month of June. Among those giving to his campaign were Lord Puttnam, Lord Sainsbury and Dave Rowntree, the former Blur drummer.
His brother Ed Miliband also received £15,000 from five donors, while Ed Balls managed to rake in £28,419 from Ken Follett, who is married to ex-Labour minister Barbara Follett, and from John Spellar.
Neither Diane Abbott nor Andy Burnham have declared any substantial donations.
The news is likely to fuel the impression that David Miliband is the most likely successor to former Prime Minister Gordon Brown as leader of the Labour Party.
As well as being the current donor's favourite he has secured the most support from the wider party ahead of the final ballot due to take place in September. He has so far secured support from more MPs, MEPs and Constituency Labour Parties than anyone else, as well as being the only candidate to get trade union support so far.
However he is closely followed by Ed Miliband who also has substantial backing from MPs, MEPs and CLPs. Ed Balls, despite having few declared backers, is also expected to generate significant support from the trade unions, although there has been no sign of such support yet.
The new Labour leader is due to be announced on 25 September at the Labour Party conference.
So far the candidates have received the following nominations:
Diane Abbott
Members of Parliament: 33
Constituency Labour Parties: 6
Members of the European Parliament: 0
Trade Unions: 0
Socialist Societies: 0
Ed Balls
MPs: 33
CLPs: 2
MEPs: 0
TUs: 0
SSs: 0
Andy Burnham
MPs: 33
CLPs: 10
MEPs: 1
TUs: 0
SSs: 0
David Miliband
MPs: 81
CLPs: 27
MEPs: 6
TUs: 2
SSs: 0
Ed Miliband
MPs: 63
CLPs: 30
MEPs: 6
TUs: 0
SSs: 0
Still to declare
MPs: 0
CLPs: 560
MEPs: 0
TUs: 12
SSs: 15