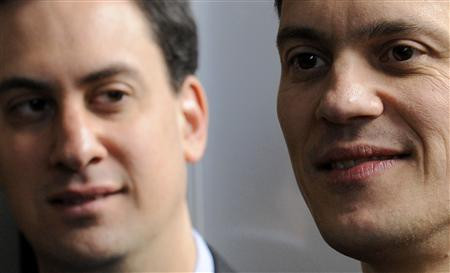 The six contenders for the leadership of the Labour Party are all hoping they can be the one to gain the support of their party and ultimately of Britain, however an examination of the support they have received thus far shows some have a broader appeal than others.
In order to qualify to take place in the leadership race proper, each candidate needs to be nominated by 12.5 per cent of the Parliamentary Labour Party, under current circumstances this means 33 MPs.
David Miliband currently leads the race with 57 nominations, while his younger brother Ed Miliband is second with 45 nominations. The MPs supporting David are spread all around the country, with a good base among MPs around Glasgow, London, the North East, the Midlands and in Wales.
Ed Miliband also enjoys good levels of support from MPs in Scotland, Wales, the Midlands and the North, although noticeably less than his brother. However interestingly he has more support among London MPs and has the support of three MPs south of the capital, three more than all of his rivals put together.
This could possibly indicate that Ed Miliband is more "southern friendly" than his brother, which could be an invaluable asset for Labour which saw its support in the south disappear during the general election, while its northern strongholds remained loyal on the whole.
The third candidate to be successfully nominated, Ed Balls, has so far secured exactly 33 nominations. While a handful of these are in London, Scotland and Wales, the overwhelming majority are from Midlands and Northern constituencies. Interestingly he has the support of most Labour MPs in the area of Birmingham and Coventry.
Andy Burnham, who has yet to be nominated, having secured only 18 nominations, looks to have a rather local appeal. Almost all of the MPs supporting him are grouped together near his own Leigh constituency in the Northwest/West Midlands.
Outsiders John McDonnell (seven nominations) and Diane Abbott (two nominations) have their few supporters spread across the country in no discernable pattern, although it is noticeable that despite this Mr McDonnell still has more supporters in London than either Ed Balls or Andy Burnham.
Of course just looking at which MPs support the candidates does not give a definitive guide as to which candidates will be best placed to gain the support of the country, but the fact that Ed Miliband is the only candidate to secure the nominations of any of the few Labour MPs south of London may indicate that he may appeal more to the "middle England" which, rightly or wrongly, has been credited with deciding elections in the past.