The Labour Party's biggest individual donor John Mills has confirmed he is open to helping bankroll its election campaign and lashed out at critics of the political donation system.
Last year, Mills – the multimillionaire owner of the JML group of businesses, economist and lifelong Labour supporter – donated £1.65m in shares to the party. In an interview with IBTimes UK, he confirmed he was yet to make another donation but he was open to making a further contribution.
Asked whether he had been approached by the party for more finance, Mills said: "Well I'm in touch with all these people all the time."
He was criticised for donating in shares rather than cash, since they can be gifted on a tax-free basis. He has now rounded on those critics as being hypocritical and warned the alternative – a public sector-funded political system – is in nobody's interest.
"I think that's really cheap to be honest with you. The arrangement there is in line with exactly what everybody does with pension schemes and I thought it was a really cheap swipe," Mills said, a man who the Leicester Mercury reports to be worth up to £18m.
"If you go around treating donors like that, you'll end up with parties being subsidised by the taxpayer, which nobody wants. There's no ideal system for funding political parties but carrying on the way they did then was not offering any encouragement to anyone."
Talking to IBTimes UK at an event to promote his "Pound Campaign" – a policy plan that would see a devaluation of the sterling form the crux of the next parliamentary economic strategy – Mills denied the donation gave him preferential treatment among policymakers.
He said: "I don't think donors should feel that because they're donating to a party they should get a say in what policy should be. They should donate because they support the broad principles.
"The fact that I've got views about the economy and referendum, I'm as entitled as anybody else to campaign inside the Labour Party for change. But I don't think I've got more right to have attention paid to me than anybody else has."
Last week, he warned that Ed Miliband's plan to implement a mansion tax if elected would cause "all sorts of problems" and that it could lead to some homeowners being forced into negative equity.
He has now called on the Labour Party to back tough crackdowns on corporate tax evasion and avoidance and to also avoid a "corporation tax race to the bottom".
"I don't think there's a very strong case for making it [corporation tax] lower and lower. Somebody has to pay the tax and corporation tax has become a race to the bottom. Ireland is at 12.5% and loads of exemptions on top of that, it's not the right way to go. I think the answer is you've got to pay a reasonable amount of tax. At least 20% is in the right ballpark," Mills said.
Confirming his company JML, which specialises in retail promotions and TV home shopping, paid all its tax in the UK despite being "easily" able to avoid paying it through its operations in Ireland and Luxembourg, Mills called on the Inland Revenue to be given more powers to collect tax revenue from multinational companies.
"There have been various initiatives bandied around. The Inland Revenue, for instance, should have the power to assess the likes of Apple or Google on what they think their profits in the UK really are, and assess them on a basis that allows the companies to challenge the Inland Revenue if they think the assessment is unfair. At the moment these companies pay very little tax in the UK and most people think that's unreasonable. I share that view," he said.
Mills describes himself as "a tribal Labour supporter" – one who agrees with the broad principles of the party but not with everything it does. He thinks Ed Miliband would make a "pretty good" prime minister and that his treatment at the hands of the press has been "very, very unfair".
Ed Balls, said Mills, also "suffers a lot from pretty savage and unfair attacks", but he is confident that the Labour Party leadership could do a better job than their Conservative counterparts and run the country in a more "sympathetic" manner.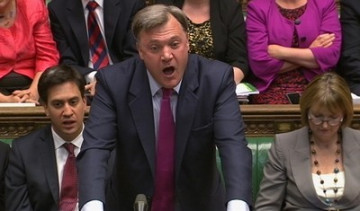 However, Mills – a notable economist in his own right – said the dominant economic policies of today make him feel "a bit depressed".
"The level of economic understanding of what's happening is so low. But in a way [I feel] not so depressed because that's the one thing that's going to wake people up to the fact that the policies being pursued by all the political parties are unsustainable," he said.
Whichever party is elected in 2015 faces a huge challenge in restructuring the UK economy, in Mills' view. He said the current recovery was largely based on "unsustainable" rising asset values (such as house prices). His own favoured policy – which would use currency devaluation as a means of boosting exports and restoring manufacturing's share of GDP – is one that would require political ambition he's unsure exists in the modern political class.
When asked how his policy has been received within the Labour Party, he replied: "With a note of caution, understandably. Mostly because it goes against the accepted public wisdom to a large extent. The reality is that any party elected in 2015 is going to have a huge problem and a huge choice. Do you stick to the policy of the moment, with an enormous government deficit, low growth, stagnation... this is really going to happen for the next 10 years? Or do you have radical change?
"Politicians have to understandably react to public opinion to a very large extent. Do I think it would come naturally to them to accept this sort of analysis? No I don't think it would to be honest."
Mills also chairs the Labour for a Referendum (LFR) campaign – an organisation that lobbies the party to commit to holding an in-out vote on the UK's European Union membership. He admits public opinion is favouring a reformed version of EU membership but said a referendum is the only way to ensure the concessions he feels are required are attained.
"Our EU membership is very, very expensive. At the moment it's running at about £12m a year, at a time when we've got a big balance of payments problem. The other big paymaster in the EU is Germany, which has a big balance of payments surplus, so the problem isn't so acute for them. It's much more acute for us," Mills said.
He also called for reforms in the decision-making model, saying it should be decentralised from Brussels, with better flexibility to revoke decisions which have been made there.
"There's quite a lot of issues around where changes need to be made. It's more likely that these changes will be made if there's some sort of plebiscite or referendum. It's whether they're going to be acceptable or not," he said.
Miliband, however, has previously said an EU referendum is "unlikely" under a Labour government and that there is an "overwhelming economic case" for EU membership.