A former Momentum vice-chair who was suspended from the Labour Party over alleged anti-Semitic remarks has been removed from the list of speakers at an event at which John McDonnell was due to speak, following an inquiry by IBTimesUK.
The shadow chancellor was due to share a platform with Jackie Walker at a Labour Representation Committee (LRC) conference on 29 October. Walker, a co-founder of the Kent Anti-Racism Network (KARN), was suspended from Labour for controversial comments she made at a party training event.
Footage showed Walker wrongly claiming Holocaust Memorial Day did not include non-Jewish genocide victims. Walker was earlier suspended by Labour for claiming Jewish people were "financiers of the sugar and slave trade".
A list of speakers published on the website on Monday listed Walker as a speaker alongside Bakers' Union Chief Ronnie Draper, Fire Brigades Union general secretary Matt Wrack and McDonnell.
But after questions from IBTimesUK Walker's name appeared to have been removed from the schedule.
A spokesman for Jewish charity the Community Security Trust (CST) told IBTimes UK: "Obviously it would be very wrong for anybody in senior position in the party to share a platform with a party member who is currently under suspension for alleged anti-Semitism."
A spokesman for John McDonnell declined to comment. LRC and Momentum did not respond to requests for comment from IBTimes UK.
Walker was suspended by pro-Jeremy Corbyn pressure group Momentum as its vice-chair on 3 October.
At the time, a spokesman said: "Having read reports of what Jackie Walker is alleged to have said, listened to the leaked video, and heard Jackie's version of events, the Committee does not regard any of the comments she appears to have made, taken individually, to be anti-Semitic.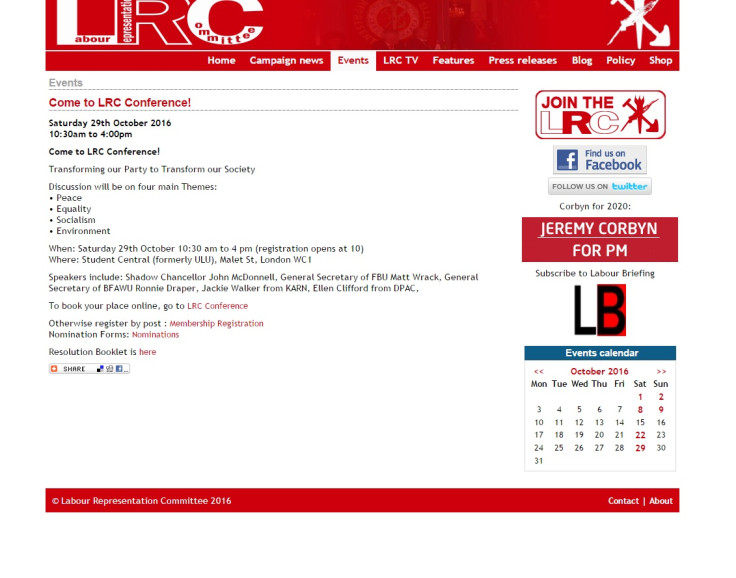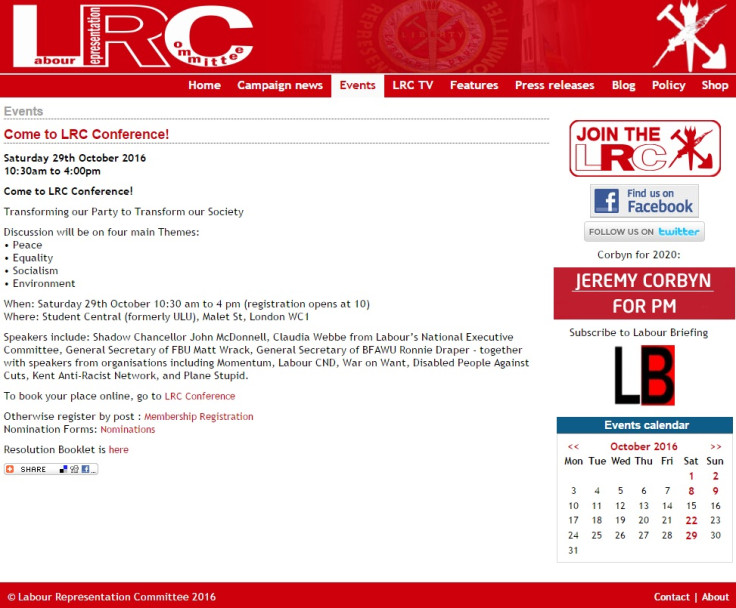 "However, the Committee does consider her remarks on Holocaust Memorial Day and on security of Jewish schools to be ill-informed, ill-judged and offensive.
"In such circumstances, the Committee feels that Jackie should have done more to explain herself to mitigate the upset caused and should have been careful about statements on this and related subjects, whatever her record as an anti-racist, which the Committee applauds."
Labour was accused of "incompetence" by the cross-party Home Affairs Committee over its handing of high-profile anti-Semitism allegations, including those regarding Walker.
"The failure of the Labour Party to deal consistently and effectively with anti-Semitic incidents in recent years risks lending force to allegations that elements of the Labour movement are institutionally anti-Semitic," the powerful group of MPs warned.
Walker, who is still a Momentum activist, previously apologised for any offence caused and defended herself on Channel 4 News.
"Some other prominent Jewish groups, of which I'm a member of, think a very different thing," she said, in response to questions about resigning from Momentum's vice-chair.
"What we have to look at when we're talking about this subject, particularly at the moment, is the political differences that are underlying this as well."
UPDATE: 17:30 BST
A spokesperson for the Campaign Against Anti-Semitism said: "Jackie Walker was demoted in disgrace over he comments about the Holocaust and security at Jewish schools.
"She first came to our attention when she claimed that Jews were the 'chief financiers' of the slave trade. It is bad enough that she remains a member of the Labour Party, and worse still that had it not been for an enquiry from the International Business Times, John MacDonnell would have shared a stage with her.
"Labour must urgently implement new disciplinary rules using the international definition of antisemitism, as we have repeatedly called for, and as had now been demanded by the Home Affairs Select Committee.
"Unfortunately the fact that the Labour Party Conference deferred any discussion of disciplinary rules until October next year does not leave us filled with hope that the situation will improve."