Labour's report into anti-Semitism in the party "wasn't worth the paper it was written on", the Conservative MP Tim Loughton has told the BBC on Sunday, 16 October.
Speaking on the Andrew Marr Show, Loughton, the acting chair of the Home Affairs Select Committee, said anti-Semitism is "infecting political parties" and that incidents reported in Labour have not been "handled well" by its leader, Jeremy Corbyn.
The scathing report, published by the cross-party committee, criticises the Labour leader for his lack of "consistent leadership" which gave anti-Semites a safe space to operate.
But Corbyn has accused the committee of putting a "disproportionate" emphasis on Labour and being overly critical of Baroness Shami Chakrabarti who wrote Labour's report, which was released in June 2016.
"Anti-semitism is infecting political parties, and I'm afraid we've made particular criticism of how particular anti-Semitic incidents have not been handled well by the Labour party under Jeremy Corbyn," Loughton told Marr. "We pay tribute to Jeremy Corbyn's long and proud record of fighting racism, that is not in doubt, what we do question is his leadership and actually doing something serious about this emerging problem."
The report claims the Labour party's failure to deal effectively with anti-Semitic incidents in recent years "risks lending force to allegations that elements of the Labour movement are institutionally anti-Semitic".
The committee – made up five Conservative, one SNP and two Labour MPs, since the resignation of its previous chair Keith Vaz – also issued recommendations to Twitter and National Union of Students (NUS) to take the issue more seriously.
Among the report's key findings were that Labour MP Luciana Berger received more than 2,500 abusive tweets in three days in 2014.
Anti-Semitism isn't due to Labour
David Rosenberg, a prominent figure in both Jews for Jeremy and Jewish Socialists' Group, believes that the growing problem of anti-Semitism in the UK should not be linked to Labour.
While speaking to IBTimes UK during an event to mark the anniversary of the Cable Street Riot on 9 October, Rosenberg said the accusations of anti-Semitism against Corbyn are politically motivated.
"There is anti-Semitism, but what has been built up against Jeremy Corbyn and the Labour Party is largely a concocted campaign serving a political agenda, which is to undermine Corbyn and also to prevent any free discussion of the Israel-Palestine question.
"I think it's a terrible shame that people are using allegations of anti-Semitism in that devious and instrumental way, because if there was real anti-Semitism, it's the left and the Labour movement that has been there fighting it."
It also found that anti-Semitic hate crime incidents had increased by 29% between 2010-2015 – a disproportionate rise compared with the 9% across other hate crime categories.
Suggestion of sexism by the committee
However, Corbyn has criticised the committee's report, saying there had been "opportunities lost" to give recommendations on combating anti-Semitism in other political parties, civic institutions and in schools and workplaces.
"I welcome some recommendations in the report, such as strengthening anti-hate crime systems, demanding Twitter take stronger action against anti-Semitic trolling and allow users to block keywords, and support for Jewish communal security," he said in a statement on his Facebook page.
"The report, in fact, echoes much of Labour's own Chakrabarti Inquiry report, including recommendations on language, stereotyping and training. However, there are some important opportunities lost. The committee chose not to look in any detail at – or come up with proposals for – combatting anti-Semitism in other parties, our major civic institutions, in the workplace, in schools, in all those places where Jewish people's life chances might be at risk through anti-Semitism."
He also said Labour had been "at the forefront" of fighting for equality and that it was the only party to have "specific protections in place" to tackle anti-Semitism.
"The report unfairly criticises Shami Chakrabarti for not being sufficiently independent. This fails to acknowledge public statements that the offer to appoint Chakrabarti to the House of Lords came after completion of her report, and was based on her extensive legal and campaigning experience," he said.
"Commissioning Chakrabarti was an unprecedented step for a political party, demonstrating Labour's commitment to fight against anti-Semitism. I am proud that Labour is the only party that has specific protections in place to ensure a zero tolerance approach to anti-Semitism."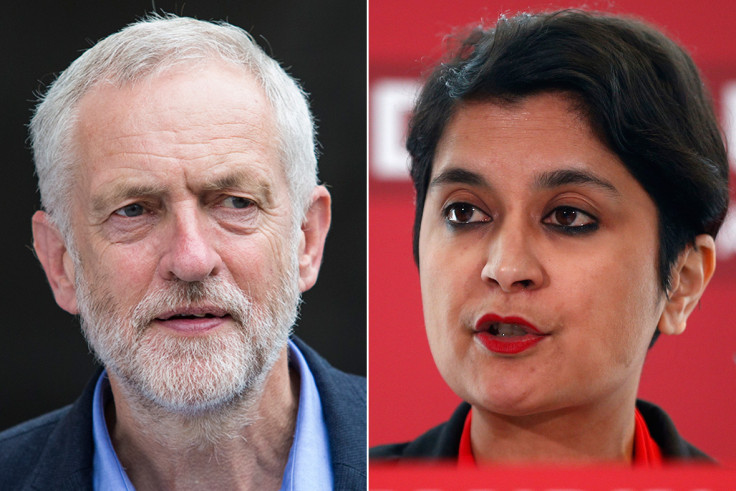 Corbyn also criticised the evidence gathered by the committee as being from "too narrow a pool of opinion" and highlighted that no women had been called to give evidence.
"Although the committee heard evidence that 75% of anti-Semitic incidents come from far-right sources, and the report states there is no reliable evidence to suggest anti-Semitism is greater in Labour than other parties, much of the report focuses on the Labour party," he said.
"As the report rightly acknowledges, politicising anti-Semitism – or using it as a weapon in controversies between and within political parties – does the struggle against it a disservice. Under my leadership, Labour has taken greater action against anti-Semitism than any other party, and will implement the measures recommended by the Chakrabarti report to ensure Labour is a welcoming environment for members of all our communities."