Lady Gaga has been named Billboard's Woman of the Year. The Paparazzi hitmaker received the honour after dethroning previous winner Taylor Swift.
"It speaks volumes to me that I'm being recognized as Woman of the Year in 2015," she told the magazine. "This is the year I did what I wanted instead of trying to keep up with what I thought everyone else wanted from me."
The feat is almost ironic, considering the 29-year-old nearly quit music this time last year following the poor performance of her fourth studio album Artpop. "At the end of 2014, my stylist asked: 'Do you even want to be a pop star anymore?' I looked at him and I go: 'You know, if I could just stop this train right now, today, I would. I just can't. [But] I need to get off now because I'm going to die,'" she told Billboard.
While her record sales have not been anything to write home about, 2015 was definitely the year that Lady Gaga came into her own, matured as an artist and successfully changed the course of her career.
Engagement
On Valentine's Day the Bad Romance singer got engaged to her long-time boyfriend Taylor Kinney. The proposal was four years in the making and the 34-year-old Chicago Fire actor popped the question to the pop superstar, whose real name is Stefani Joanne Angelina Germanotta, with a heart-shaped diamond engagement ring. "He gave me his heart on Valentine's Day, and I said YES!" she wrote on Instagram.
American Horror Story debut
In October, Lady Gaga made her small screen debut in American Horror Story. The star burst on the screen in the fifth season of Brad Falchuk's FX series, as vampire matriarch The Countess. She has since showed off her acting chops as a blood-sucking killer and even enjoyed an on-screen romp with Angela Bassett, who plays Ramona Royale, a 1970s actress who falls in love Gaga's character.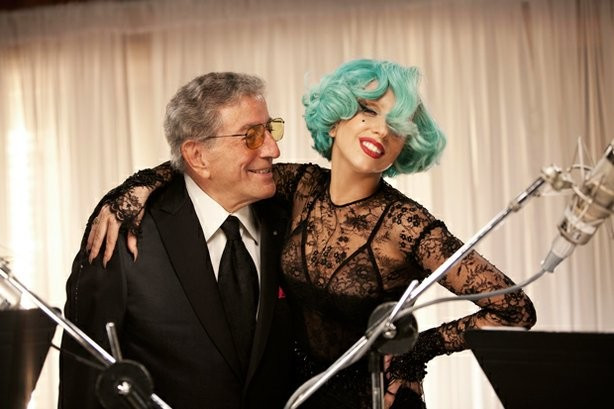 Oscars performance
At the 2015 Oscars, Gaga took to the stage to perform a Sound of Music Medley. Although her performance brought the A-list audience to their feet, and got a seal of approval from Julie Andrews, Gaga recently admitted that it was a professional gamble. "The truth is you can either nail a performance like that or butcher some of the most classic songs sung by an all-time great. I took the gamble because everyone had written me off. It took me a long time to get those notes."
Tony Bennettcollaboration
In 2014 Gaga teamed up with jazz heavyweight Tony Bennett to produce collaborative album Cheek to Cheek. Although many thought it wouldn't work, the duo managed to pull it off. The record debuted at number one on the US Billboard 200 with 131,000 copies sold in its first week and at the 57th Annual Grammy Awards, they took home the gong for Best Traditional Pop Vocal Album. As a result, they have spent much of 2015 touring together and Gaga has managed to prove that she is more than a one-trick, meat-wearing pony. Although she has retained her signature style, she kept it classy to complement Bennett, who has became a friend and mentor, and doesn't allow her loud personality to overshadow the music.