From the moment she descended from the top of Houston's NRG Stadium to the climactic mic drop, Lady Gaga was in commanding form, delivering what many critics agree was the best half-time show in Super Bowl history. Like most Super Bowl shows, there was so much going on that it flew past in a dazzling blur of explosions, lighting effects, choreographed dancers, outlandish props and high-energy disco.
Stripped of the pyrotechnics and the frothy music, however, these high-resolution photographs capture Gaga delivering the performance of her life. They show just how much focus and commitment is required to execute such an extravaganza that seems so effortless.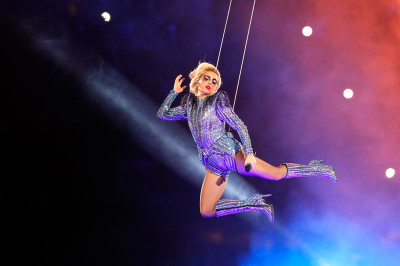 Gaga was a commanding presence in the stadium, unlike many predecessors who brought in guest stars to bolster their act. Her 13-minute show featured high-energy dance hits from the early part of her career such as "Poker Face" and "Just Dance". The frenetic pace relented only for a stripped-back rendition of the ballad "A Million Reasons", the only song in the show from the last five years.
Although she did not mention Donald Trump or his Muslim travel ban, she did make a few veiled references to the importance of inclusivity, kicking off the show with a pointed medley of "America the Beautiful" and "This Land is Your Land". This theme was reinforced by her inclusion of Born This Way - her hymn dedicated to acceptance and inclusion, a thread that also ran through much of the television advertising during the game.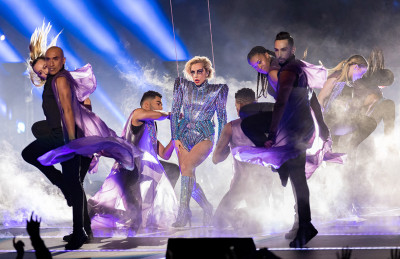 The finale, "Bad Romance" was a crowd-pleaser. Gaga, who had spent much of the evening in a metallic space suit, emerged in her third outfit of the performance, a midriff-baring costume topped off by football-like shoulder pads. She threw down the microphone and jumped off a platform to disappear at the end.