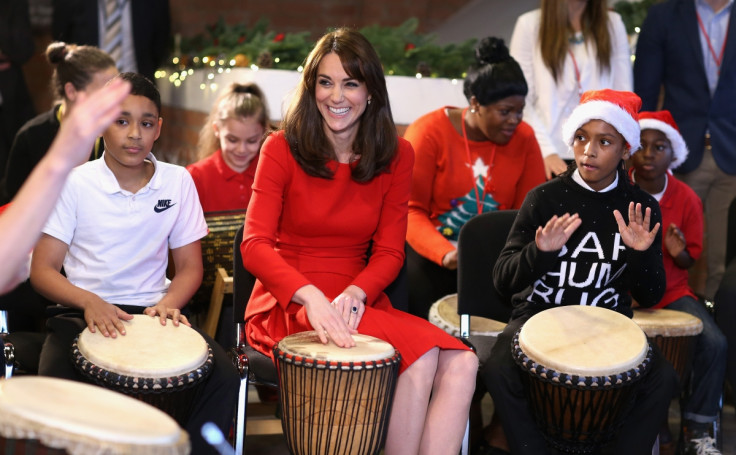 Christmas may be 10 days away but Kate Middleton has already enjoyed her first Yuletide gathering. The 33-year-old royal kicked off the festive season by spreading some cheer at the Anna Freud Centre Christmas party.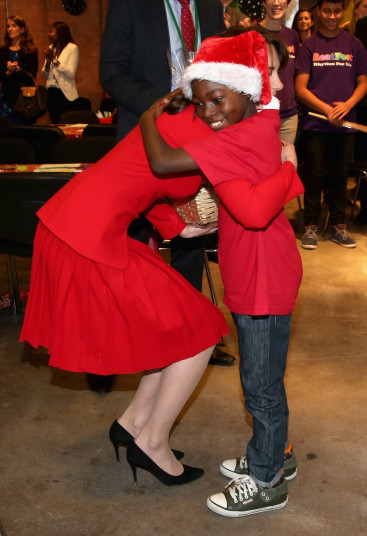 During the North London's charity's end-of-term celebrations, the mother-of-two appeared animated as she spent time with families, watched a musical performance put on by the children and helped to create a Christmas tree collage. She also showed off her playful side when she sat amongst the children and tapped along to the beat on her drum during a music session.
For the merry engagement, the royal fashionista choose a red Alexander McQueen dress, which she has worn on two separate occasions − she previously stepped out in the vibrant frock during the Diamond Jubilee river pageant in 2012 and in February 2014 she dusted it off for an event at Buckingham Palace. She completed the look with black suede pumps and a matching black Mulberry clutch bag. The bash also provided the perfect opportunity to show of her new long bob, which she unveiled earlier in December.
The Anna Freud Centre is a leading institution that helps children and young people with mental health issues. As the royal patron, Prince William's wife has been steadfast in campaigning to raise awareness about children suffering mental health problems and other difficulties.
In September, the Duchess marked her return to royal duties following the birth of her second child, Princess Charlotte, by paying a visit the Anna Freud Centre."I have been heartened to see that so much progress has been made in ending the taboo of adults openly treating mental well-being as the health issue it is," she previously said in a statement calling for greater investment in child mental health services."I believe that our generation of parents, carers, teachers and health workers now have the chance to give the mental health of our children the focus it requires."