You join us on Highway 89 driving from the state capital of St George to the curiously-named Big Water. The first time a bunch of Europeans ventured through this barren wasteland they were led by explorer John Wesley Powell. It was 1869 and they were part-way through a three-month trek down the Colorado river to the Grand Canyon. We're feeling just as adventurous today, but the tool at our disposal is making the journey far more hospitable.
The all-new 2017 Land Rover Discovery is the tool in question, whisking us from the Zion National Park to our hotel 100 miles away, just north of the Arizona border. Highway 89 is exactly what you would expect from a desolate US motorway; long, smooth and very straight. The scenery is positively Martian and completely empty; a blank canvas but where the occasional paint of civilisation is a blot on the natural beauty behind it.
Ignore the Wild West film sets outside and you could mistake this leg of the journey for that bit of the M4 connecting Hammersmith to Heathrow. Convenient, given how almost all Discoveries will spend much of their time trundling along motorways to airports and relatives, A-roads to school car parks and B-roads to the garden centre.
Here the car is comfortable, composed (if a little noisy at speed) and offers more than a hint of Range Rover luxury. In the model we have today there are seven leather, electrically-adjustable heated seats. The front pair give out free massages and the second and third rows all fold flat thanks to electric motors with buttons to control them both in the boot, and buried in the InControl Touch Pro infotainment system. If you're feeling particularly Silicon Valley you can even adjust the seats with a smartphone app from anywhere in the world.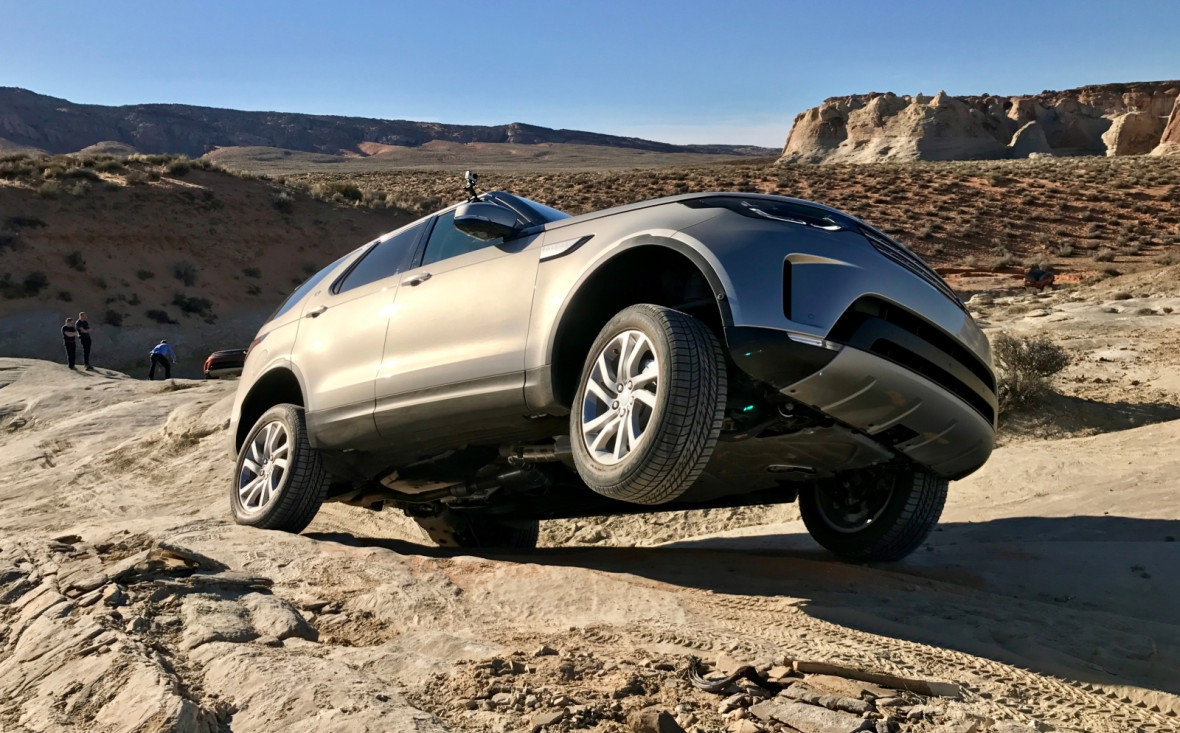 It's a spacious car, as you might well expect, and even six-footers shouldn't have too many problems with the third row of seats. Meanwhile, children will be most impressed in the second row, where they have seat-back televisions and enough USB ports to charge up an Apple Store. There is also a 4G-powered Wi-Fi network and a storage bin by the gear selector specifically designed to hold four iPads. The optional Meridian sound system is top-notch and despite being a big old bus the Disco pulls off that modern SUV trick of mimicking the dynamism of a smaller car. Helping here is the switching of steel for aluminium on much of the bodywork, slashing nearly half a tonne of weight from its predecessor.
Soon we turn off the dusty 89 and onto the path less trodden. Raising the suspension but leaving Land Rover's Terrain Response 2 system in automatic, we carve our way through mile after mile of Mars-red sand and mud occasionally decorated with mounds of snow, standing defiantly, thumbing their nose at the warming sun above and reminding the rattlesnakes that even deserts are visited by winter.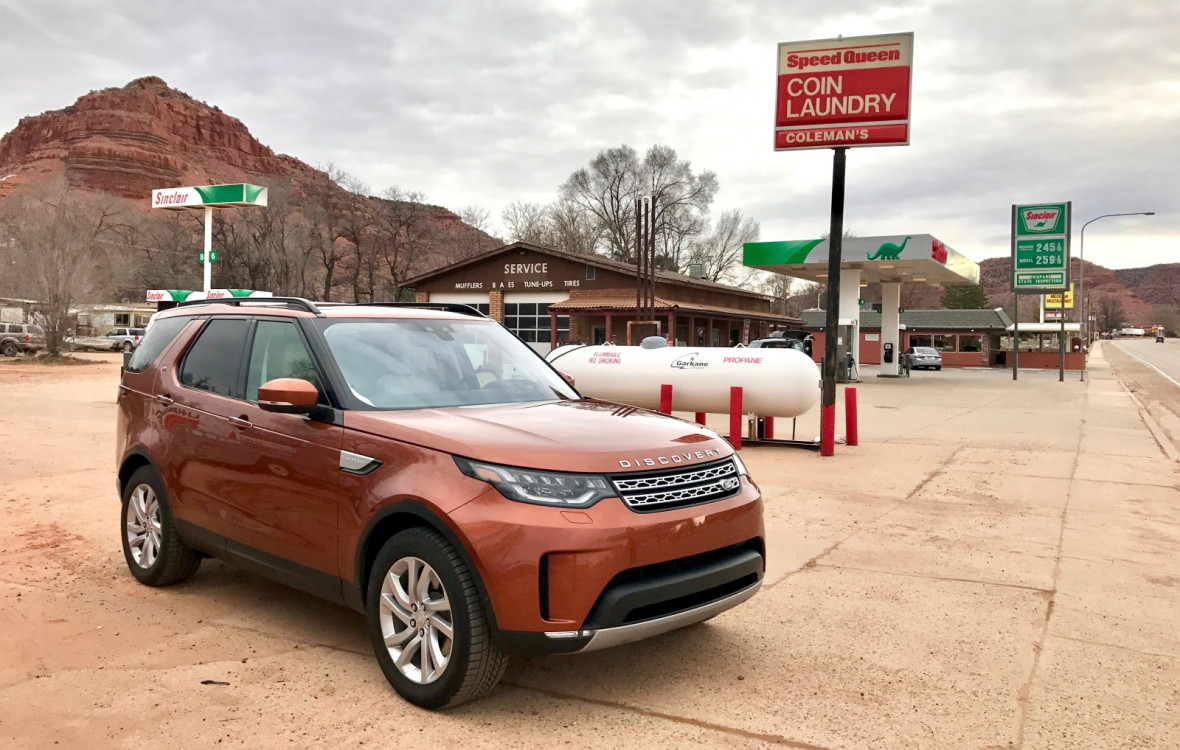 A tougher challenge for the Discovery soon arrives in the form of a rock-crawl obstacle course. Inexplicably found by the Land Rover events team and miles from even the nearest road, the course gave the car its first real challenge. We press the Terrain Response button to take it out of automatic and turn it to Rock Crawl mode. This jacks the car up for maximum ground clearance and softens accelerator response to make sure progress is slow and predictable. What happens next is really quite extraordinary; the car drags itself up rock faces you'd struggle to conquer in walking boots, traversing across a route so steeply inclined that a front wheel ended up 12in in the air. The Land Rover folk tell us the car manages with equal aplomb in the pouring rain.
Of course, it is likely that any modern SUV with adequate ground clearance would complete the same course, but the Discovery's performance remains impressive nonetheless. We return to Highway 89 and pass through the town of Kanab, which inspired the fictional Radiator Springs from the Pixar film Cars.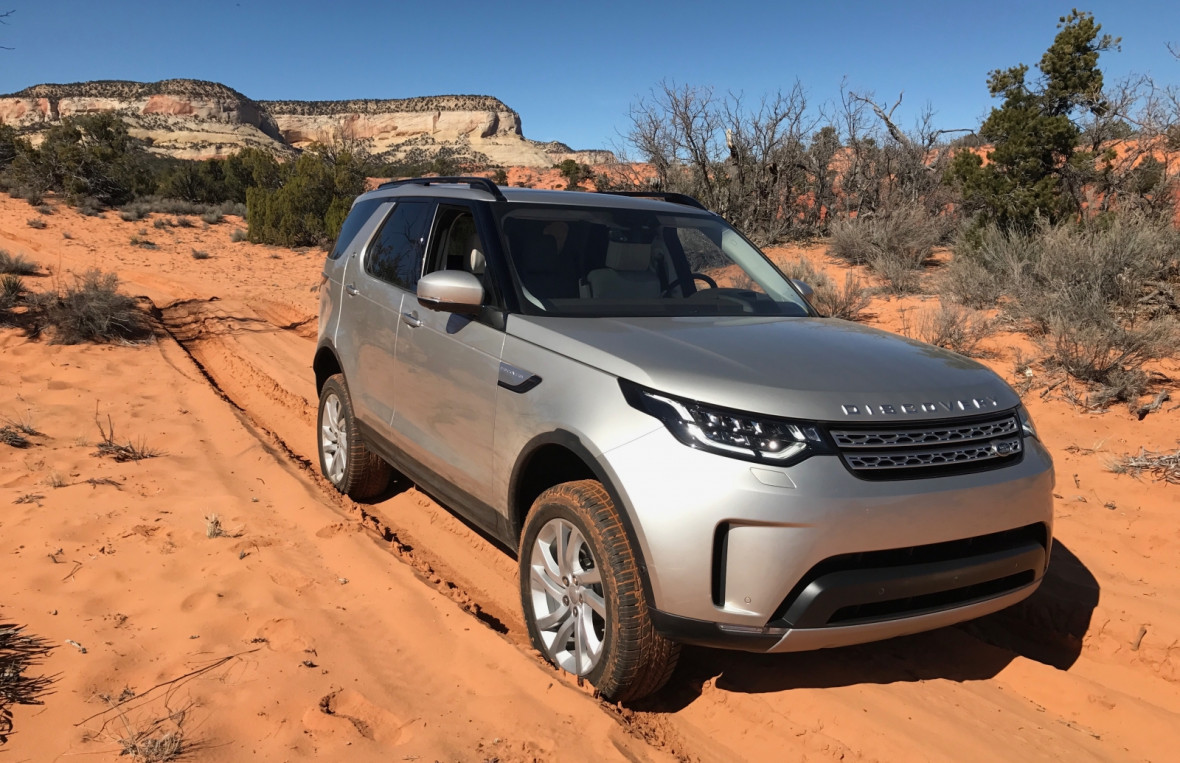 The next day we switch from the entry-level two-litre, four-cylinder diesel engine to the three-litre diesel, which offers similar performance apart from 100 extra Newton metres of torque, taking the total up to 600. While off-road behaviour is similar in both, on-road acceleration is improved enough to make dual-carriageway and motorway overtaking a speedy and more dignified affair.
Briefly crossing the border into Arizona – where the road suddenly loses its asphalt and becomes a dirt track – we head towards the Coral Pink Sand Dunes state park. Some air out of our tyres and we switch the Terrain Response 2 dial into Sand mode, ready to tackle the park's dunes. A flag on a long pole is attached so following vehicles know where we are and hardy Land Rover staff can find us if things go Very Wrong.
Where mud and rock driving require a gentle touch, clearing sand dunes and their towering inclines is a matter of force over finesse. Basically, give it a boot-full, grapple at the wheel like a sailor in a storm and hope for the best.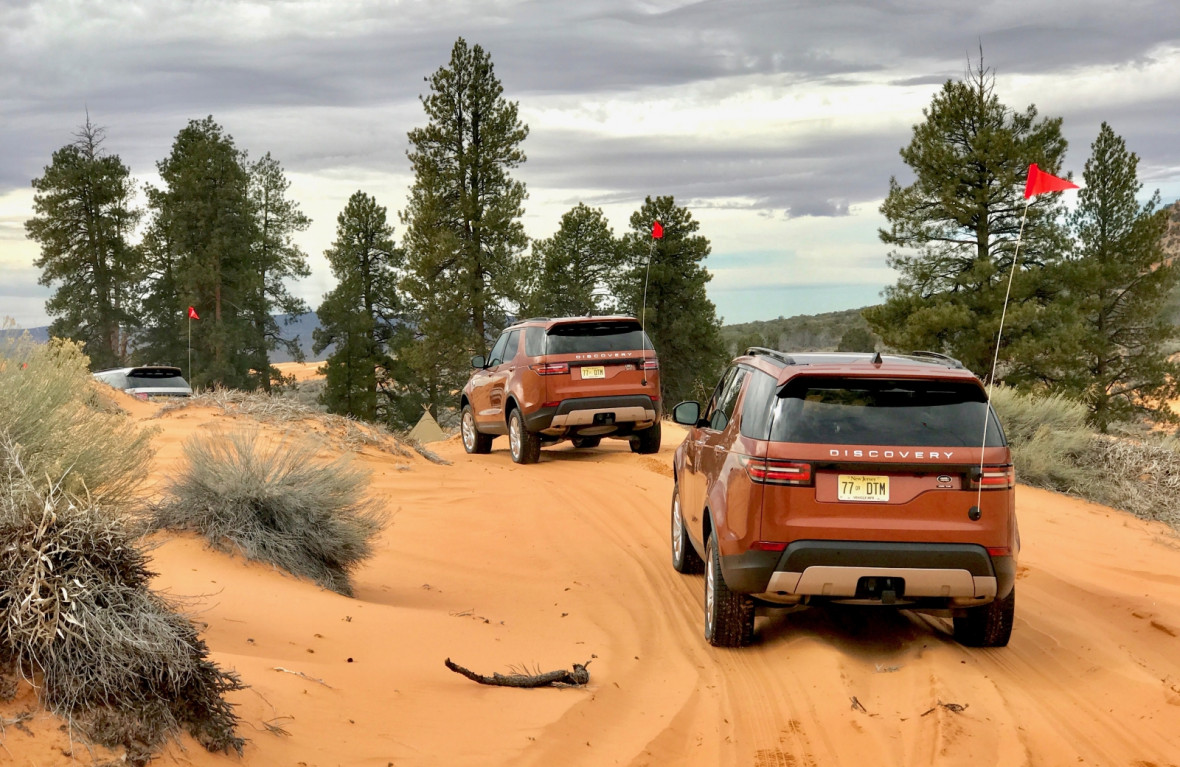 The Discovery's off-road tech then went about cleverly masking our ham-fisted efforts, but the apparent witchcraft powering us up each dune and slowly, safely lowering us down the other side again at a spookily consistent speed wasn't entirely infallible. This is a long-winded way of saying we got stuck. Several times. The following Discoveries managed just fine and the Land Rover crew are surprisingly efficient with a bucket and spade, only adding to our embarrassment.
This wasn't the car's fault, clearly, and once rescued for the final time we soldiered on and over the last dune, rally legend Colin McRae's "if in doubt, flat out" mantra permanently branded onto our brain. Over lunch, we have time to properly inspect the Discovery from the outside for the first time.
From the front it's a handsome car; softer and more rounded than its boxy, utilitarian and arguably more purposeful predecessor, but retaining enough of the Land Rover family DNA to get away with it. Side-on you can see the iconic stepped roof remains, albeit filed down and almost out of existence. But step around to the back and question marks appear. Put bluntly, this car has a rear three-quarter view (especially from the left, as it isn't symmetrical) that only a Land Rover designer could love. It's just a little… awkward, and the offset number plate really doesn't help. We get how it mimics the shape of Discoveries of old, but their shape came from the split tailgate, where the top half opened upwards and the lower downwards, and that no longer exists.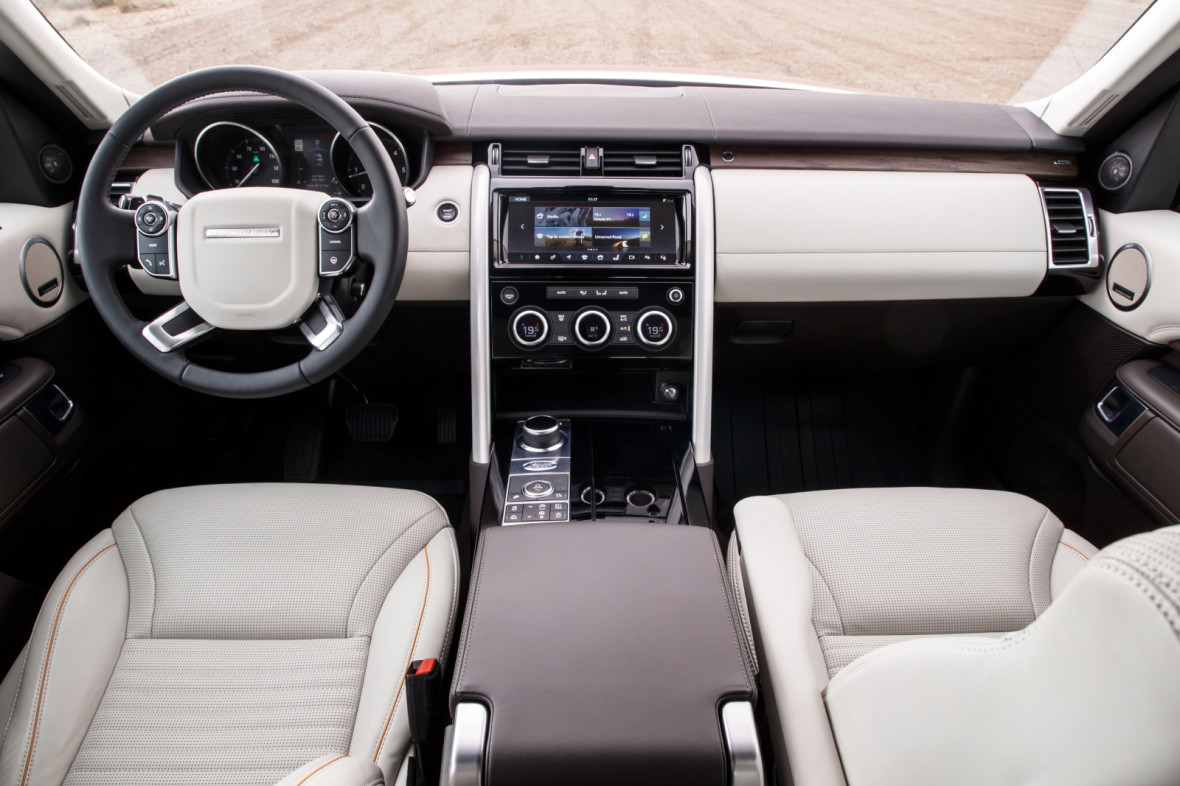 It is nostalgic design for nostalgic design's sake, adds nothing and will take a good deal of getting used to each time you approach it with a bag of compost in the garden centre carpark.
A brief scramble through the mud and we are back onto Arizona's finest roads, slick with reddish-brown mud and barely distinguishable from the wasteland at either side. Here the Disco's Terrain Response is back in Automatic, the computers doing their finest to keep the car straight and stable as we charge across John Wayne country.
Crossing back to Utah, we rejoin the 89 and set the sat-nav for our final destination, St George airport. Leaving the final town we are greeted with a vista made up of two mountain ranges, one baked by the sun, the other, seemingly just a few miles further away, draped in snow. Our run back to St George takes in more of the deserted highway, now bombarded by raging winds. They first introduce themselves by blowing a single, solitary and stereotypical tumbleweed across our path like a lost movie prop. Minutes later tumbleweeds the size of Labradors terrorise the road, some large enough to make us wonder if we should make attempts to swerve around them.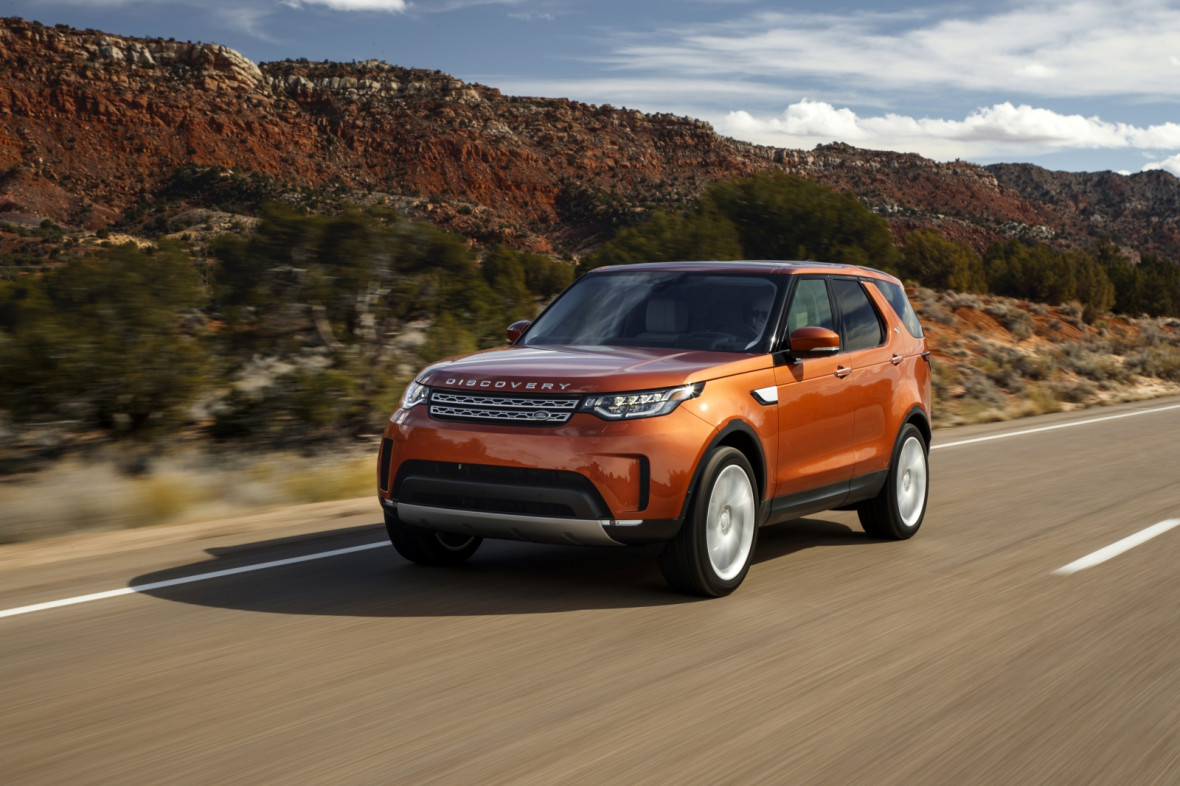 With any recognisable sign of civilisation long since erased from our rear-view mirror, nothing but mountains ahead and the constant battalion of tumbleweeds crossing the carriageway like soldiers bravely darting through no-man's land, we wondered if any Discovery will ever feel so far from home, yet so within its comfort zone, ever again.
You see, while the new Disco can scramble up rock faces with the agility of a mountain goat, wade through 90cm of water without care (any deeper and it floats, not explodes), and head-butt its way over towering sand dunes without breaking a sweat (driver incompetence notwithstanding), 99% will never do this. People will buy the new Discovery, as they always have, because it can seat seven adults in comfort, provide internet, power and storage to as many iPads, give the driver a massage and do garden centre, dog walk and children's birthday party runs like a champ. As a complete all-rounder, this car truly is one of the very best.
Our verdict
Land Rover Discovery (2017)
The Discovery is a lot like the prospective owner's nice Swiss watch – a device built to dive to 300m, but which will rarely come closer to death than that one time it fell in the sink. Similarly, the Land Rover can climb any mountain and ford any stream. You drive this car while basking safely in the knowledge that it can do almost anything, but you also get the feeling it knows it will never really have to.
The 2017 Land Rover Discovery is priced from £43,495 to £68,295 and is on sale now.