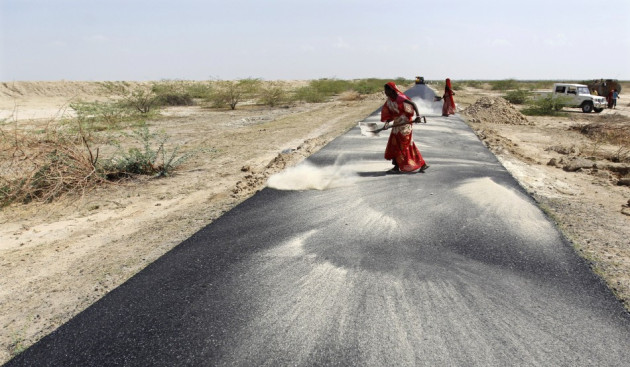 India's biggest engineering and construction group Larsen & Toubro (L&T) reported lower-than-expected first-quarter profits, as infrastructure spending continues to suffer from the protracted economic slowdown in Asia's third-largest economy.
L&T's stock price finished 7.4% lower to 901.95 rupees (£9.88, €11.52 ) on Monday in Mumbai, its biggest drop in about four years, after the firm said net income fell 12.5% in the April-to-June first quarter.
The benchmark S&P BSE Sensex finished 0.05% higher, after hitting a two-month high in morning trade.
Volatility in the Indian rupee, which declined 8.6% against the dollar in the previous quarter, and uncertainty in the financial markets was affecting "investment sentiment," Chairman A M Naik said in a statement.
L&T, which makes equipment used in power stations, said revenue from its key power segment dropped 44% in the first quarter owing to delays in the awarding of large orders.
Net profit fell to 7.56bn rupees (£82m, €96m, $127m) from 8.64bn rupees a year ago, the company said. Analysts forecast a profit of 9.5bn rupees, according to Thomson Reuters data.
Eighty per cent of the company's sales occur in India, where growth dropped to a 10-year-low in the 2012-13 financial year.
The company's domestic order book grew 8% from a year ago to 1.65 trillion rupees at the end of June, while the international order book expanded 16%.
L&T said its outlook for the 2013-14 financial year remains unchanged. The company expects net sales to increase 15% to 17%, while new orders are expected to rise by about 20% on expansion in the Middle East and Africa.
"The fact is the situation is very challenging on the ground," Reuters quoted chief executive officer Krishnamurthi Venkataramanan. "Overall, if you see the situation, for the next two years, looks quite challenging from the Indian context." International sales would cushion the impact of the slowdown in its Indian business, he told Reuters.
L&T's stock has tanked about 16% so far this year. The Sensex has gained about 4%.
Delays in land-acquisition and project approvals are not uncommon in India. Last week the world's top steelmaker ArcelorMittal and South Korea's POSCO shelved plans to build two steel plants in India, citing protracted land disputes as the reason for pulling out.
India's economy may grow slower than the previously forecast 6.5% for the year to March 2014, prime minister Manmohan Singh said last week.