When Rey visited Ahch-To, not only did she find an aged Luke Skywalker to freak out over her possibly-dangerous powers, but she also became familiar with the planet's native bird, the Porg. The furry avian creature made its debut in the first full trailer of The Last Jedi, which released on Monday, 9 October, and going by the few seconds it is featured in the promo, we know that it manages to make its way off the home planet and onto the Millennium Falcon.
The video shows the wide-eyed Porg squawking at the top of its voice as Chewbacca attempts to steer the ship safely while in the middle of a space battle. While this is the only scene with the newbie, it was enough to get fans gushing on the internet.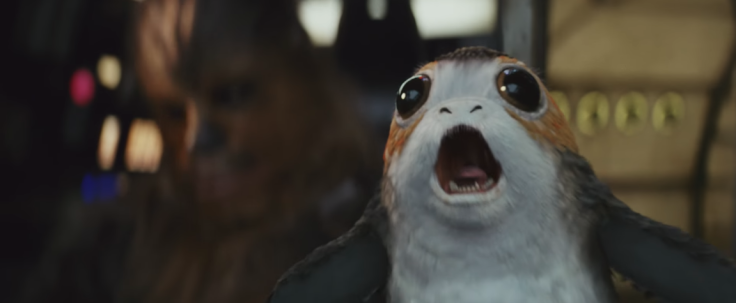 "I realise now that Chewie is taking the place of Han (in falcon) and may have adopted the porg as his furry sidekick. Feels," one person commented on Twitter, while another jokingly warned, "If one Porg dies in this, I will burn down LucasFilm."
Speaking to Entertainment Weekly back in August, writer-director Rian Johnson said he decided to include them in the film because he did not want Skywalker to be alone in exile.
"If you go to [the Irish island of] Skellig at the right time of year, it's just covered in puffins, and they're the most adorable things in the world," he explained of his inspiration. "So when I was first scouting there, I saw these guys, and I was like, oh, these are part of the island. And so the Porgs are in that realm."
Sure, while there are a number of hardcore fans who see the introduction of the Porg as simply a gimmick by which the studio can market more film merchandise, there is no denying that most of them would not mind a figurine or stuffed toy of the cute creature.
Funko, the company that specialises in pop culture toys, was at hand to launch their line of Porg bobble-head collectables ahead of the trailer and are expected to set the cash registers ringing in time for Christmas, which falls 10 days after the release of The Last Jedi on 15 December.