The wait is finally over for fans as the trailer of Star Wars: The Last Jedi provides a glimpse of the galaxy far, far away.
Released during the first half of Monday Night Football, the two-minute-long teaser rips apart the leaked plot theories as it appears the eighth sequel is much more gripping than it was assumed to be.
While there are multiple plot points focussing on each of the important characters of the space action odyssey, what stands apart is the dreaded expression on Luke Skywalker's face when he sees Rey, a space junk scavenger in the planet Jakku who ultimately turns into a powerful Force bearer.
In a few shots, Rey is seen training with a lightsaber but her practice session sends chills to the former Jedi Master, who looks visibly shaken by her 'raw' power. "I have seen this raw strength only once before. It didn't scare me enough then... It does now."
It appears Rey's Force stirs the hunting memories of his nephew, Ben Solo, who turns towards the Dark Side and destroys the Jedi Order after getting trained under him.
Though Rey seeks Luke's help in channelising her powers, it looks as if the former Jedi Master, who is in self-imposed exile, would be eager to train her, especially after what he sees in her.
Kylo Ren, on the other hand, appears to struggle with his true self as Ben Solo. His dark ambition to get in the good books of Supreme Leader Snoke made him kill his own father Han in Episode 7, The Force Awakens. But will he be able to do the same with his mother, the General of the Resistance against the First Order?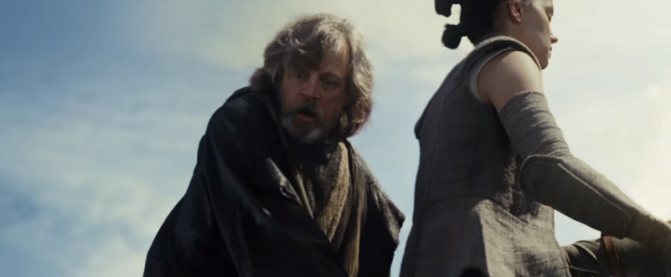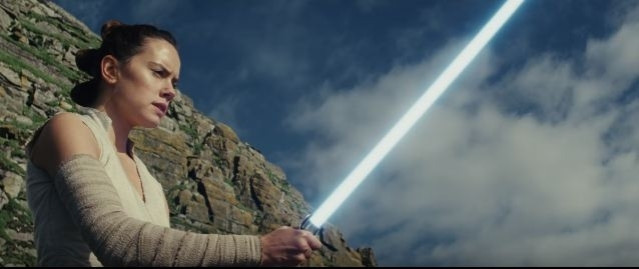 He previously vowed not to repeat the emotional mistake committed by his grandfather Darth Vader aka Anakin Skywalker. But In the upcoming film, he seems to struggle emotionally as his mother waits for his deadly move.
Both the prime characters, Kylo and Rey, however, will eventually come face to face. But contrary to expectations of a huge faceoff between the two, it appears they will be each other's emotional anchor. "I need someone to show me my place in all these," Rey tells Kylo who shockingly responds to her request and stretches his hand towards her.
The scene, however, has polarised fans with some assuming that Rey manages to bring Kylo to ditch the Dark Side and become Ben Solo again. Others think that Luke Skywalker's fear has taken shape and Rey also turns towards the Dark Side just the way Supreme Leader Snoke wants her to be.
Written and directed by Rian Johnson, the film stars Mark Hamill, Carrie Fisher, Adam Driver, Daisy Ridley, John Boyega, Oscar Isaac, Lupita Nyong'o, Andy Serkis, Domhnall Gleeson, Anthony Daniels, Gwendoline Christie, Kelly Marie Tran, Laura Dern and Benicio Del Toro.
Star Wars: The Last Jedi opens in UK theatres on 14 December, 2017. The film will release a day later in the US.