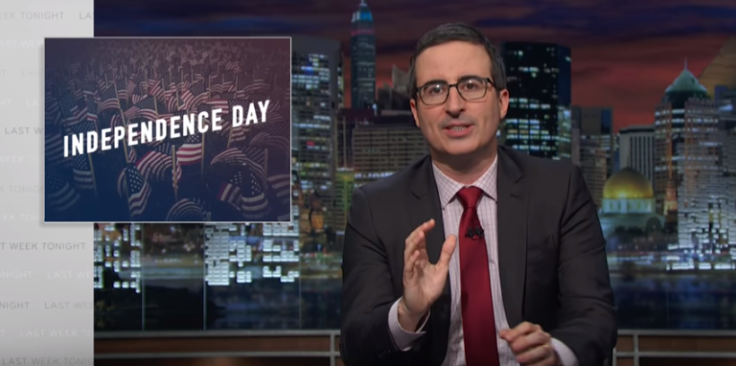 The next episode of Last Week Tonight is slotted for 24 July, but to keep fans of the witty talk show content, HBO has released a web video to mark America's Independence Day. In keeping with the Fourth of July festivities, British talk show host John Oliver asked audiences to reconsider their independence.
"I want to take a quick moment to remind you of what you're missing out on by celebrating your independence," Oliver started off, listing some of the things the US gave up when they won their freedom from Britain.
"First there is the matter of your accents. These beautiful vowel sounds could have been yours. But instead from sea to shining sea, you speak like you just burnt your tongue on a hot apple pie," he continued.
Moving on to bowler hats, the host explained that America was missing out on a headgear he described as "perfect for dressing your head like a circumcised velvet penis".
Oliver then moved on to cuisine, informing his American audience that they lost out of meat pies which he said were filled with "a hot f*****g mess".
"But the thing Americans are really missing out on is pessimism. Americans are optimistic people who believe the sky is the limit. Where as in Britain we are painfully aware of our limits. For instance, look at the British sky itself... even the sun is incapable of asserting itself there," he said.
The 39-year-old comedian then brought in one of his favourite subjects: Queen Elizabeth II. "British people never make the mistake of developing self-esteem because no matter what we achieve, deep down we know, we'll never be as good as the Queen. Which is to say, an elderly woman who frowns for a living."
Watch the complete web exclusive below:
The next episode of Last Week Tonight with John Oliver will air in the US on 24 July on HBO and on Sky Atlantic in the UK on 25 July.