The Iraqi military says its troops now have "full control" of eastern Mosul after pushing Islamic State (Isis/Daesh) out of the last neighbourhood they were tasked with recapturing, their commanding officer said. The Counter-Terrorism Service (CTS) has taken control of the eastern bank of the Tigris river, which roughly divides the city in half from north to south, Lieutenant General Talib Shaghati told reporters in Mosul. He called the success of the Iraqi forces "unprecedented".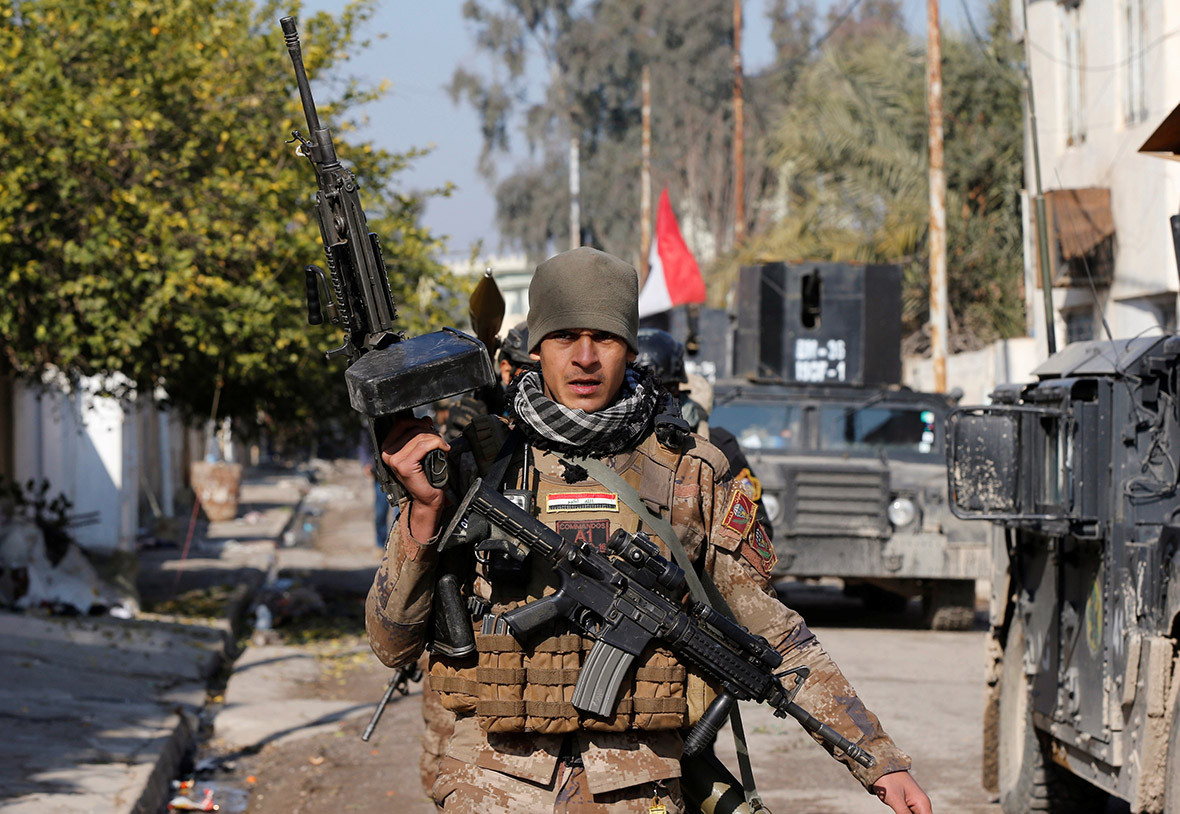 However, regular army troops are still fighting the ultra-hardline militants in northeast Mosul, according to a military statement. The army, special forces and elite police units have operated in tandem to capture different areas of eastern Mosul. The army is mostly deployed in the north, the CTS in the east, and the federal police in the south.
Bridges across the Tigris river, which bisects Mosul from north to south, have been hit by US-led air strikes intended to impede Islamic State reinforcements joining the fighting in the eastern neighbourhoods, and more recently by the militants trying to block a future westward advance by the military.
Residents of the al-Andalus neighbourhood said IS fighters had fled just before Iraqi special forces' assault began. Another wave of intense IS resistance almost certainly awaits Iraqi forces in the western half of the city, which is home to some of Mosul's oldest neighbourhoods, with narrow streets that will further complicate the urban fight. The United Nations estimates that more than 700,000 people are trapped there, living under siege-like conditions.
Prime Minister Haider al-Abadi said that Islamic State had been severely weakened in the Mosul campaign, and that the military had begun "moving" against it in western Mosul, without elaborating. Residents contacted by phone said air strikes against IS deep inside western Mosul had increased in recent days. More than a dozen missile strikes in the Yarmouk district targeted weapons depots and workshops the militants used to make explosives. Some raids had killed or wounded civilians, including in the Mosul al-Jadida neighbourhood and an industrial zone, they said.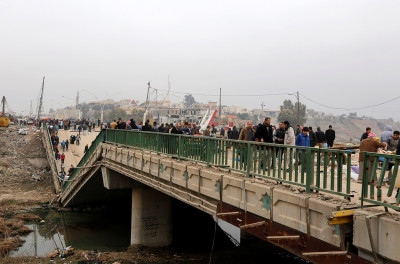 While Iraqi forces continue to make territorial gains against Isis, Mosul's civilians continue to be killed, wounded and displaced by the fighting. Iraqi and UN officials believe that one reason so many have been killed and wounded is that IS fighters have targeted civilians trying to flee. The operation has left more than 148,000 people homeless – nearly 12,500 people were forced to flee their homes just over the past week, according to the UN.
Mosul — Iraq's second-largest city and IS' last urban stronghold in the country — fell to the Islamists in the summer of 2014, when the militant group captured large swaths of northern and western Iraq. More than a million people were estimated to still be living in Mosul in October, when Iraqi forces launched the operation to retake the country's second largest city from Isis.