Team GB women broke the team pursuit world record for the sixth successive time in winning Great Britain's fifth cycling gold medal in thrilling fashion at the velodrome.
After Bradley Wiggins, the men's team sprint, team pursuit, and Victoria Pendleton all won gold, the women's pursuit team made it five gold medals in four days in emphatic style.
The trio of Laura Trott, Dani King and Joanna Rowsell broke the world record for a sixth successive time and added to their world title from Melbourne in April.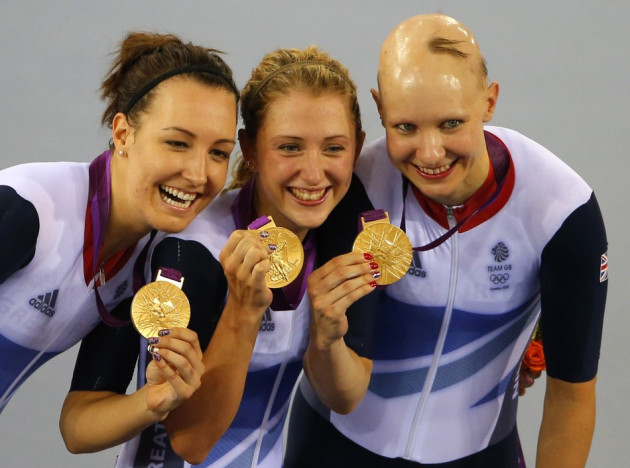 Laura Trott, who will aim to become a double Olympic champion, said: "I feel so emotional right now. It's my dream, it's been my dream since I was eight and we've just gone and done it.
"It's amazing isn't it, I don't think we expected it. I think we expected it in one of the rounds but not in every single ride that we did.
"We can't believe it really. I didn't feel that great after the qualifier but in an atmosphere like this it was the last thing I was thinking about I just wanted to get round and that was it really I just celebrated."
Dani King added: "We're like sisters and I couldn't have done it without them they were absolutely incredible and I can't believe we've done it, it's absolutely incredible. I can't describe how I'm feeling right now. I'm ecstatic; it feels amazing we've done it!
The third member of the team pursuit, Joanna Rowsell said: "I could tell we were winning by the noise of the crowd because they were just shouting so loud that really just spurred us on that extra kilometer.
"The last couple of laps we could just about see them but you don't believe it until the fun goes at the end there because anything can happen in those last couple of laps so you have to keep pushing until the finish.
"But I believed it at the start when we stood on that start line. We knew we could do it was just getting it done, and it was about getting round the track as fast as we could and breaking the world record in the process that's just a bonus but it's all about this gold medal."