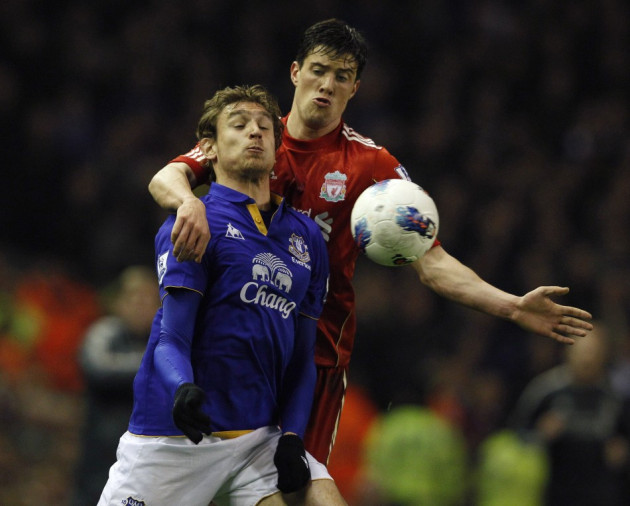 Former Liverpool defender Mark Lawrenson believes Everton striker Nikica Jelavic could prove the difference between the two sides when they meet in Saturday's FA Cup semi-final at Wembley.
Jelavic, 26, has scored five goals since signing for the Toffees in January and manager David Moyes has praised the Croatian's influence since arriving at Goodison Park. Moyes, whose side warmed up for this weekend's clash with a 4-0 victory against Sunderland, said the striker has given his side a "really big lift" in the last two months.
And BBC pundit Lawrenson insists Jelavic has proven to be another astute signing by Moyes and insists the player could prove crucial to the club's hopes of progressing against their Liverpool rivals.
"January isn't historically a good time to change players but Moyes has got it right again," Lawrenson told the Liverpool Daily Post.
"Not least with Nikica Jelavic, who has given Everton the cutting edge they have so desperately needed having struggled over the last few years to get a focal point to their attack.
"The striker will be a huge threat at Wembley, as will Marouane Fellaini who has become very influential and will be in and around the area Steven Gerrard will operate.
"Jelavic has impressed me, not only because he can score goals but with the way he has quickly adapted to the pace of the Premier League and the fact there are better defenders in England than in Scotland."
Liverpool travel to Wembley on the back of a morale-boosting victory at Blackburn on Tuesday but, having won just twice in the league since the turn of the year, Lawrenson cautioned that Everton must be considered favourites to advance to the final.
Despite lifting the Carling Cup and reaching the semi-finals of the FA Cup, Liverpool have experienced a woeful league campaign, losing eight games in 2012 as their bid for a Champions League place faltered.
"While most neutrals will be expecting Everton to win, I can see why they are desperate not to be favourites. That expectation hasn't set well with Everton in the past," said Lawrenson, who won the FA Cup for Liverpool against Everton in 1986.
"What are you better at, chasing or being chased? Chasing is a lot easier. Everton will have to learn to deal with the expectation, but they have no reason to be fearful.
"The Anfield derby aside, even performances when they haven't won recently have been pretty good. Everton have experience of Wembley and will be looking to draw on that, because it is a completely different feeling to be playing on a neutral ground."