When Lazar Markovic crashed a volley against the North Stand bar on Saturday, Sunderland forward Conor Wickham stood transfixed; the striker left starry-eyed and open-mouthed. The makings of a classic vine, Wickham's reaction was one shared by the entire stadium and perhaps even the country. This acrobatic effort signalled the arrival of a new Premier League star, the player Liverpool believed they had signed.
Recruited from Portuguese champions Benfica, Markovic arrived with a big reputation, the kind that comes hand in hand with unchecked expectancy. Liverpool's transfer dealings have been roundly chastised but a little known fact is they prioritised Markovic above all other targets – their belief in his skill-set and budding potential steadfast. A £20m outlay appeared steep to many outsiders but internally Anfield officials celebrated what they deemed a major coup.
The traditional hoopla peppered forums and phone-ins alike, those aforementioned expectations ratcheted-up over the course of pre-season. Indeed the summer months have a seemingly strange effect on football supporters, any remnants of realism betrayed at the sight of one YouTube compilation. In fairness the player himself did little to quell the hype, announcing his intentions to storm the division on arrival.
Regrettably the instant impact never materialised, our Serbian winger patently startled at the speed and physicality of English football. A ten-minute initiation away to Manchester City whetted the appetite, only for form and confidence to ebb away amidst a brutal culture shock.
Anonymous showings at home to Aston Villa and Middlesbrough drew criticism, as did an alarming lack of conviction in his overall game. Comparisons to careers unfulfilled duly surfaced, the ghosts of Mark Gonzalez and Anthony Le Tallec unfairly cited.
The proverbial deer in the headlights, Markovic was removed from the firing line, charged with acclimatising on and off the field. An obvious need to 'bulk-up' superseded any footballing education for two inauspicious months.
During such time the occasional appearance went largely unnoticed as fans resigned themselves to the understandable if inconvenient settling-in period. That was until the all-important Champions League decider at home to Basel in December.
With Liverpool chasing the game, Brendan Rodgers turned to the mercurial and somewhat forgotten Serb in a bid to turn the tide. What ensued was a whirlwind ten-minute cameo – fuelled by a series of direct, adventurous runs yet dashed by a bizarre and frankly pathetic dismissal. As the winger sheepishly trudged down the Main Stand tunnel Anfield stood to a man, not in appreciation of a childish red but instead savouring the first glimpse of the player within.
An unusual launch pad, Markovic has expressed himself ever since. Another encouraging substitute appearance followed at Old Trafford before a well overdue start and goal away to Bournemouth in the League Cup. Pointedly, Dean Court saw the seeds sown for Rodgers' progressive 3-4-3 formation and with it the emergence of Markovic the wing-back.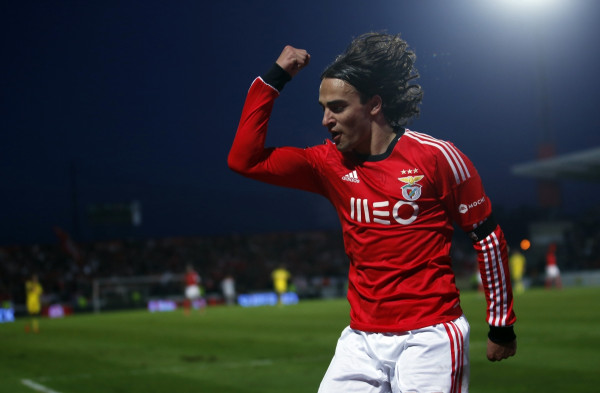 Liverpool turning the corner
Another watershed of sorts, player and team have kicked-on accordingly, slowly but surely arresting what had descended into a rotten campaign. Remarkably, at time of publication the Reds have lost just one in 13.Tellingly Markovic has proved central to this mini-revival – abandoning the safe option and in turn empowered to commit defenders, form good enough to facilitate Raheem Sterling's mid-winter break.
That said there remains room for improvement, our self-assured number 50 anything but the finished article. Indeed he remains a rough if exciting diamond and must hone certain aspects of his game. Amongst said frailties is an occasional disinterest in tracking back – criminal in wing-back quarters - along with a timid profligacy in front of goal.
Nevertheless, his audacious trickery, direct running style and willingness to press have reinvigorated the Reds in recent weeks, gifting them a movement and penetration devoid since Daniel Strurridge and his jet heels sparked delirium.
Now fully up to speed the player will be integral to Liverpool's belated charge for Champions League football. That much was evident on Saturday where Markovic tormented Sunderland. A perfectly timed dart into the box should have earned a second minute penalty before a scrappy goal owed much to his persistence and energy. Then came that sumptuous volley, an airborne Markovic clattering his effort back off the underside of the upright in a snapshot straight out of the Steven Gerrard annals.
It is such sprinklings of quality that compelled the Reds to embark on their aggressive pursuit last summer. Those close to the club felt immediate action was necessary as football's elite would price them out of any deal in 2015.
Wrongly typecast as another costly flop, Markovic was written off far too quickly, deserving time to adjust to the rigours of Premier League football, just as he did those of the Portuguese Superliga. Lest we forget this is a 20-year-old kid billed as the next big thing; many pretenders have buckled under such scrutiny. Jose Antonio Reyes anyone? Brendan Rodgers urged patience and must now feel vindicated as the tide begins to turn, both for him and his youthful side.
There will be bumps in the road, last week's slug-fest away to Wimbledon a case in point. Unaccustomed to the cut and thrust of a classic cup tie Markovic looked rather bemused by the entire concept, his standard flair negated by a mud-soaked pitch and the presence of 14-stone bruisers.
Nevertheless in him, Raheem Sterling and Philippe Coutinho, Liverpool have three gems capable of spearheading their attack for years to come. Rodgers' back to basics approach is one designed to field all of his best players. In doing just that, Liverpool have awakened from a ponderous slumber and rediscovered their mojo. The aforementioned trio have added pace, ingenuity and an all-important goal threat – attributes which underpinned last season's title assault.
Add Daniel Sturridge to that exciting concoction and those black clouds supposedly engulfing the club will soon dissipate. Granted, we may have left it a little late to gatecrash the top four but beyond this season the future looks bright. If recent form is anything to go by, it is a future likely to be shaped by Lazar Markovic.
Aaron Cutler writes for the hugely popular Liverpool fan site This is Anfield and is also a feature writer for Country Music People Magazine.
You can follow him on Twitter @aaron_cutler, and find out more about This is Anfield via either their website or Twitter feed.