When Simon Mignolet joined Liverpool he displaced a cult hero. The outgoing Pepe Reina had regressed dramatically over the course of two seasons, a shadow of the goalkeeper that inspired title challenges and European crusades.
Nevertheless his undoubted ability, well intentioned loyalty and infectious personality shone through, securing him a dedicated following in the process.
To these disciples the Spanish stopper warranted another year to prove his worth. His detractors argued otherwise, highlighting a hefty wage, unapologetic "come and get me" pleas and glaring shortcomings in his overall game as proof that action was necessary.
When a changing of the guard duly emerged it split the Kop, complicating Mignolet's task before he had even stepped onto the Anfield turf.
To his credit the Belgian knuckled down and made an impressive start to his Liverpool career. An injury time penalty save at home to Stoke set the tone, while crucial saves away to Villa and Everton earned rightful plaudits. Showcasing a shot-stopping ability missing from Reina's game, Mignolet appeared a bargain upgrade.
In time, however, additional aspects of his game came under close scrutiny, birthing cause for concern. Firstly, his kicking ability was clearly limited – a major weakness in a side encouraged to play from the back. Secondly his command of the area was indecisive, a reluctance to leave his line baffling. Finally, those who make the weekly pilgrimage to Anfield detected a clear lack of communication, the Belgian inexcusably mute even in a subdued atmosphere.
With Liverpool's defence resembling a supermarket sweep, questions began to be asked. Indeed, Mignolet was spared greater inquisition only due to his teammates' comedic tendencies. The blame, however, was eventually shared.
The obvious failings in Mignolet's game beg the question: Why sign the Belgian? The inner workings of Liverpool's maligned transfer committee are not conveyed to the general public but surely those onboard could pinpoint the model Rodgers stopper. The latter looks something like Hugo Lloris or Michel Vorm, the archetypal sweeper keeper. Mignolet has never fit that profile.
With the jury very much out heading into pre-season, it is unforgivable that an alternative, if not a replacement, was never lined up. Such an oversight meant the Reds headed into 2014/15 with the woeful Brad Jones as their only recognised back-up. As Mignolet's form deteriorated further still, that blind spot came back to haunt Rodgers.
Heading into the new year, we stand at an uncomfortable crossroads. The manager's decision to drop Mignolet "indefinitely" surely signals the end of his Liverpool career. However, with no immediate replacement forthcoming, that left the fatally flawed Jones between the sticks, an accident waiting to happen.
Even Mignolet's harshest critics would accept the Australian is no competition. A Roy Hodgson signing, his continued presence on Merseyside is baffling. A great guy he may be, that does not change the fact he is unworthy of a number three slot at Liverpool. Indeed, he would struggle to command a starting place at most Championship clubs.
Errors predictably surfaced three games into this curious experiment. An Old Trafford baptism backfired when Jones adopted an intriguing policy of diving out of the picture. A similarly hapless stance was adopted for Arsenal's pre-Christmas equaliser – a routine header admired rather than saved. Most damning of all was the fact Jones encountered just eight shots on goal from three games, yet shipped a whopping five goals.
In a peculiar twist, his big moment appears to have been short-lived, a thigh injury 16 minutes into the Boxing Day clash with Burnley scuppering any chance to stake a claim. Cue an unexpected stay of execution for Mignolet.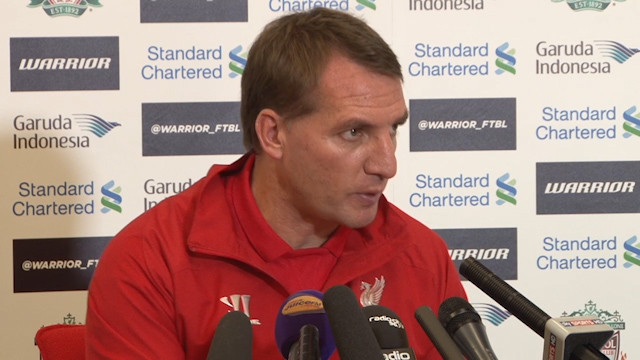 When Joe Hart was relegated to the Manchester City bench it was a calculated move, one designed to inspire an upturn in form. Sure enough, the England stopper responded, his resilience coming to the fore.
Given Mignolet's fragile confidence and general unsuitability, this exclusion is unlikely to bear similar fruit. Indeed the only logical explanation for such a move is Rodgers attempting to force the owners' hand. A political game may be ensuing – the Liverpool boss subtly stating "sign me a replacement or I persist with one of two liabilities".
Will the board relent? Something clearly has to give as Liverpool's kamikaze defence will crumble under the weight of uncertainty.
Plenty of alternatives
Unsurprisingly, Mignolet's big comeback fell flat. Tormented by the Burnley faithful he proceeded to kick waywardly, allowing one ball to run out of play despite no pressure and ample time. A broken man, he is entering the final weeks of his Anfield career.
Alternatives are out there, whether funds are released or not. Petr Cech would command a fee and some hard bargaining but would fit seamlessly into our side. Arguably the Premier League's greatest keeper, he will not bow out a substitute.
Jack Butland's big move to Stoke, meanwhile, has turned sour due to a lack of first-team opportunities. A respectable offer may prize the one-time England protégé from the Britannia. Failing that would a move for his superior, Asmir Begovic, be beyond the realms of possibility?
Not forgetting Spain international Victor Valdes, who remains available on a free transfer. The fact no side has gambled on the former Barca man is quite incredible. Not even Manchester United, with whom he has trained for two months, have felt convinced to snap-up the richly decorated goalie.
Liverpool's points haul of 25 from 18 games necessitates a record-breaking run-in. Indeed no side has finished higher than 6<sup>th with such a meagre return. However, given the mediocrity of this league, European qualification is salvageable. If the Reds are serious about rescuing their campaign they will not ignore the elephant in the room. January is a chance to flex their muscle and remedy a long-time problem position.
In dropping Mignolet, Rodgers has effectively laid down the gauntlet to his paymasters and their committee. Let's hope that appeal does not fall on deaf ears, for in signing a replacement the Reds would be saving fare more than just this season.
Aaron Cutler writes for the hugely popular Liverpool fan site This is Anfield and is also a feature writer for Country Music People Magazine.
You can follow him on Twitter @aaron_cutler, and find out more about This is Anfield via either their website or Twitter feed.