Two Tottenham Hotspur fans were in hospital with stab wounds and another 10 were injured after 100 Lazio hooligans armed with baseball bats, knifes and knuckle-duster stormed a bar in Rome.
The assault was the latest episode in a long history of racism and violence among some Lazio supporters.
Neo-Nazi banners, Celtic crosses and nostalgic symbols of the wartime fascist dictatorship of Benito Mussolini are regularly paraded by hardcore Lazio fans at games in Rome's Olimpico Stadium.
Those who congregate behind the north goal - the Curva Nord - are the most nororious as far right supporters who often target black players and chant anti-Semitic choruses.
In 1992, freshly signed Dutch defender Aron Mohammed Winter, a black Jew, was welcomed by graffiti outside Lazio training pitches reading "nigger Jew" and "Winter raus [out]!"
Over his four years at club, Winter managed to win over many former enemies in the stands - but not before he denied his Israeli origins.
"I was advised to deny my roots. During an interview I said my name was Aron Mohammed because my father liked exotic names," Winter recalled years later in an interview with the Corriere della Sera.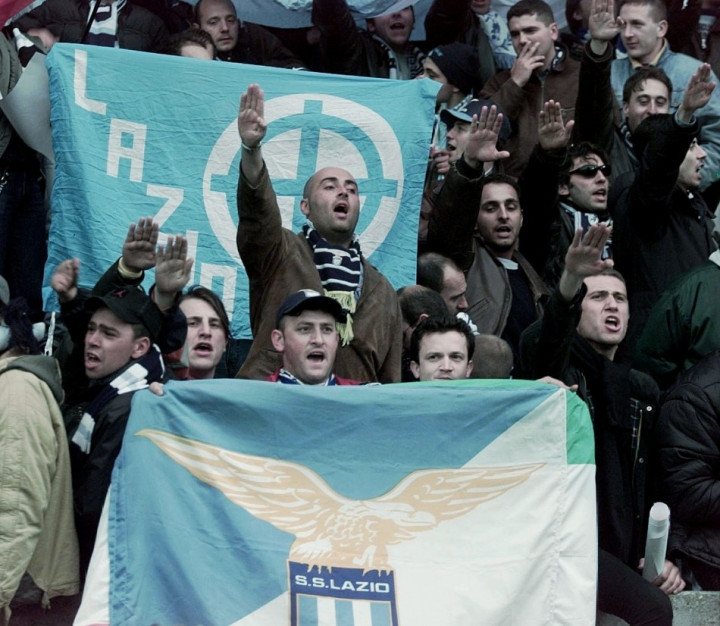 In 2000, then-Arsenal midfielder Patrick Vieira and other black Arsenal players were abused throughout a Champions League game. In the same game Vieira was also repeatedly called "nigger" by Lazio's Serb defender and fan idol Sinisa Mihajlovic. Mihajlovic later apologised.
That same year the Curva Nord unveiled a banner in tribute to Željko Ražnatović, known as Arkan, a Serb criminal and paramilitary leader, who was convicted of genocide against Muslims committed during the Yugoslavian wars.
In 2005, a few days after Pope John Paul II died, Lazio was playing much-hated Livorno, which hardcore fans associate with far left politics.
As soon as the minute's silence to commemorate the Polish pope was over, Lazio fans started chanting "Livorno Jews" and "Duce, Duce" - the nickname of Mussolini who implemented Hitler's racial laws in Itlay during the Second World War.
During another game the same year, Lazio fan and Mussolini apologist Paolo Di Canio, now a manager at Swindon, infamously celebrated a goal by running to the crowd and giving the Curva Nord a fascist salute after scoring during the Rome derby.
The right hand raised in the air in a straight-armed Roman salute was a symbol of Italy's former fascist dictator Benito Mussolini, often shared by Lazio Curva Nord supporters.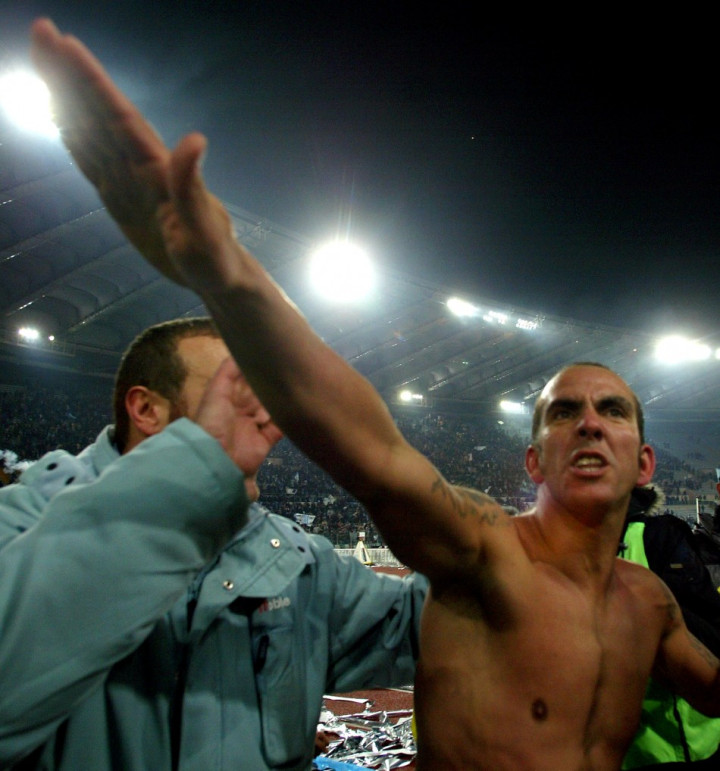 Scuffles and clashes with other hooligans and police are regular occurrences, especially during the Rome's derby against AS Roma.
One year ago two Roma fans were assaulted by Lazio supporters. One was stabbed in the backside - regarded as a humiliation. Other fans bombarded police with Molotov cocktails outside the stadium.
Antipathy towards security forces grew even more bitter after Lazio fan Gabriele Sandri was shot dead by a policeman during clashes ahead a match against Inter Milan in 2007.
Earlier this year, Lazio was fined £32,500 after fans chanted monkey noises at Tottenham's black players. Spurs also has a large Jewish fanbase.