Le Mans 2016 Ford GT photoshoot: New racer meets its GT and GT40 predecessors ahead of 24-hour race
On 18 June, Ford will line up four of its new GT race cars on the starting grid at Le Mans, with the famous 24-hour, 5,000km race ahead of them. It will have been 47 years since Ford last competed at Le Mans, but more significantly the 2016 race marks 50 years since Ford finished first, second and third in the now-legendary GT40.
A prototype racer which was just 40 inches tall, the GT40 was built to compete directly with Ferrari, who dominated the sport. The 1966 win was a poignant one for Ford, as the company's entry into Le Mans (and thrashing of Ferrari) came three years after its attempt to buy the Italian car maker was thwarted at the last minute.
It was 1963 and Henry Ford II, son of the company's founder, attempted to purchase Ferrari, which had won Le Mans in four of the previous five years. But Enzo Ferrari backed out of the deal, sparking one of the great motor racing rivalries.
Ford created the GT40, and a handful of road-going versions to sell to the public, but failed to even finish Le Mans in its first two years.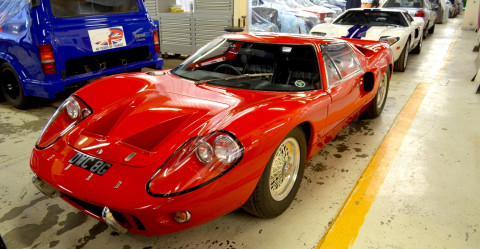 Ford then pumped resources into research and development, turning the mid-sixties into one of the most technologically innovative periods motor racing had ever seen. The investment worked, and in 1966 a team of GT40s finished first, second and third. A GT40 also won Le Mans in 1967, '68 and '69.
The GT40 name then disappeared and, because it was never trademarked, fell into the hands of Surrey-based Safir Engineering, which built replica GT40s in the 1980 and 1990s.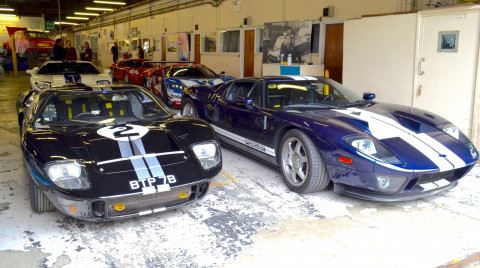 When Ford decided to build a modern-day, reimagined version of the GT40 to celebrate its 100th birthday in 2004, it assumed buying the name back would be easy. But as the limited-run supercar was being prepared for sale, Safir Engineering, which was now selling spare parts for original GT40s, wanted $40m (£28m) for the name. Ford refused, so the 2004 car was called the Ford GT.
Now, 12 years later, Ford has once again reimagined the GT40. The 2017 GT is another limited run, road-legal supercar which will begin deliveries to customers next year, but before then it will compete at Le Mans.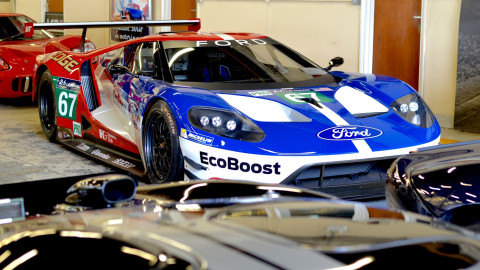 IBTimes UK was recently invited to a special day at the Ford Heritage Centre in Dagenham, Essex, where the company keeps examples of some of its most famous (and mundane) cars. Here, among a collection of everything from the Model T, to the newest Mustang and everything in between, we were greeted by two original GT40s (insured for £5m each, but used regularly), two Ford GTs and the GT racer show car.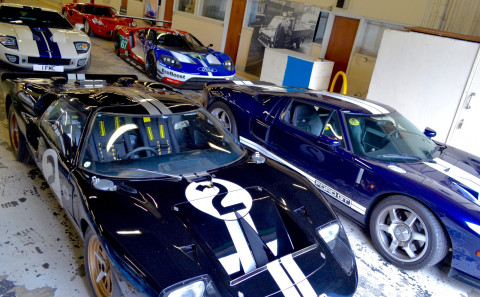 The family genes are clear to see, from the cars' headlights and huge air intakes at the front, to the low roofline and blunt rear end. Five decades and an almost immeasurable amount of technological innovation separates these two cars, but their goal to beat Ferrari around the Circuit de la Sarthe over a June weekend remains the same. Le Mans begins at 3pm local time (2pm BST) on 18 June.