Leading Tory Eurosceptic John Redwood believes Britain has taken another step towards exit from the EU and David Cameron may yet be forced into leading the "out" campaign in his promised 2017 referendum.
Speaking to IBTimes UK, the former minister praised Cameron for the way he behaved over the appointment of Jean-Claude Juncker as EU Commission president.
But he suggested the chance of winning the sort of "minimalist relationship" he wanted with the EU was remote, leading to growing pressure for an "out" vote in the 2017 poll which Cameron might have to lead.
And he said he would welcome the first two years of a Tory government being dominated by sorting out the Europe question "once and for all", rejecting the idea it would damage the party and government.
Redwood is one of the most senior members of the Tory Eurosceptic wing and was one of the group who heaped praise on the prime minister over his unbending stand against the appointment of Juncker.
"It was very good news that the prime minister stood up for the distinctive UK position on this and pointed out that we do not wish to go down their centralising, federalist route and that Britain needs a different kind of relationship with them," said Redwood.
Asked if, as a result, the UK was now closer to withdrawal from the EU, he said: "There has been a move in that direction.
"If we had a vote today to stay in on current terms or to leave, I would clearly vote to leave, saying the current terms were quite unacceptable."
He would not lay down any red lines for the future, pre-referendum negotiations but said he wanted a "minimalist relationship" and that he was in favour of "not very much in terms of binding commitments".
Redwood admitted he could vote to stay in if negotiations were successful, but appeared doubtful they would.
"I would not prejudge what I would do in 2017 because I wish the prime minister well in his renegotiations. I could conceive of a new relationship which they offered us which I liked, but I would not rule out having to vote against because they may not offer very much."
And that, he suggested, could even end with the prime minister forced to fall in behind public opinion and lead the "out" campaign, although he did not expect Cameron to admit as much at this stage.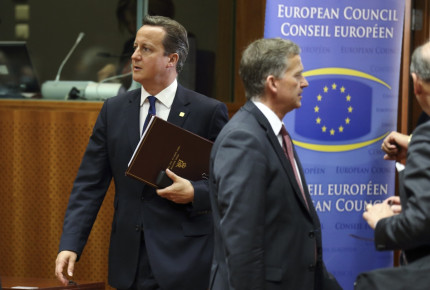 "I think that would be asking a lot. The prime minister is an optimistic, positive person and will want to keep on saying he does not go into negotiations expecting to fail and he hopes to bring something home he can recommend.
"But if the negotiations were thought to have gone very very badly in the UK and polls showed 60% or 70% of the British people were going to vote for 'out', it would be a bit surprising if the prime minister wanted to lead the losing side in a referendum. That would presumably be the end of his time as prime minister," he said.
"But I understand that he is optimistic and positive and don't expect him to change his language dramatically any time soon."
The first poll after the EU summit showed 47% would currently vote to leave compared to 39% in favour of staying in.
He claimed the prime minister and others had moved towards his Eurosceptic position "because we have persuaded them to develop this very exciting new policy of negotiate then offer a referendum, which they did not set out at the beginning".
But the fact that ministers discovered in office how their hands were tied by the EU over issues like extradition, criminal justice, benefits and border controls has contributed to the change.
He dismissed as a "mis-reading" the suggestions that the first two years of a Tory government would be dominated by damaging rows over the 2017 referendum, saying: "I would welcome the first two years of the new parliament sorting all those out once and for all.
"We have had a continuous row about it since we joined, whichever party has been in power. It would be doing the country and politicians a favour, saying let's have a good one and a half years go at this and settle it for good."
And, pointing to the ERM crisis that damaged former Tory prime minister John Major in 1992, he said it was "too much Europe that damaged the Conservative party, not too little".