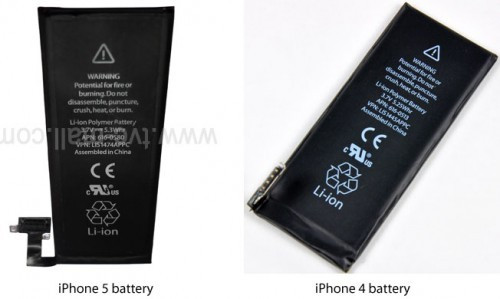 Following a slew of recent "leaks" from Chinese manufacturers, another batch of iPhone 5 component photos has emerged -- this time pertaining to the device's camera and battery.
The images came from unofficial Apple site MacRumours. They were reportedly sent to the site along with a tip that TVC Mall -- one of the companies that supplies iPhone parts -- had begun shipping the parts.
The images allegedly showed the iPhone's battery, back Camera Lens, and headphone/earphone audio jack flex cable.
All three of the photos showed components markedly different from those used in Apple's current iPhone 4.
The photo of the iPhone 5's battery also included some technical specifications, reporting 3.7V and 5.3Whr -- the same spec as the current iPhone 4.
The image of the device's camera unit dismissed early reports that the iPhone 5's camera would house separate camera and dual flash modules, showing a component similar to the iPhone 4's with an embedded flash unit.
The "leaked" photos are the latest in a slew of rumours surrounding Apple's iPhone 5. To date, despite widespread speculation that the device is set for a September or October release, Apple has not disclosed any official information regarding its next iPhone.
As usual, the company declined to comment when asked on the authenticity of the new photos.