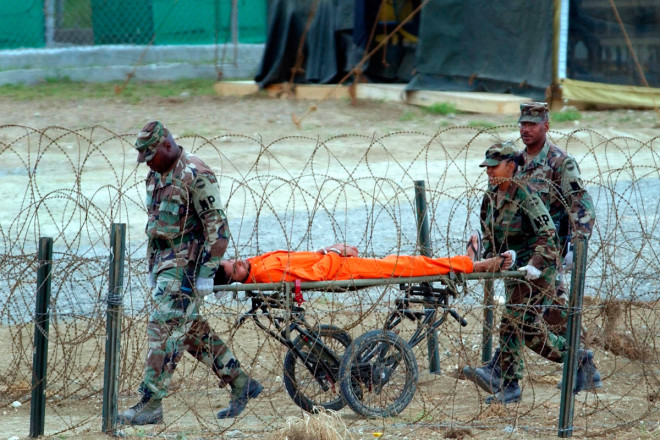 Officials at the Guantanamo Bay detention facility have described prisoners' hunger strikes as "long-term non-religious fasts".
The new document, titled "Medical Management of Detainees With Weight Loss", was published after Guantanamo prisoner Emad Hassan's lawsuit. He accuses prison officials of adopting brutal force-feeding torture on inmates who deliberately go on hunger strike to protest.
The document, exclusively obtained by Vice News, advises Guantanamo's Joint Medical Group (JMG) on how to treat prisoners who engage in "long-term non-religious fasts"; while the expression "hunger strikes" is not mentioned at all.
"In the event a detainee refrains from eating or drinking to the point where it is determined by medical assessment that continued fasting will result in a threat to his life or seriously jeopardise his health, JMG medical personnel will make reasonable efforts to obtain voluntary consent for medical treatment," the protocol states.
"If consent cannot be obtained from the detainee, medical procedures necessary to preserve health and life shall be implemented without his consent."
The lawsuit against force-feeding argue with expert support, however, that force-feeding practices at Guantánamo Bay amount to torture. In particular, the speed at which liquid is forced into some prisoners is a form of water torture that is similar to water-boarding – the form of torture that simulates drowning.
Retired Army Brigadier General Stephen Xenakis - who has consulted on numerous Guantanamo prisoner cases – told Vice that the new Standard Operating Procedure (SOP) is a hunger-strike protocol, despite the complete absence of the term in the document.
"The document tries to give the impression that it's not about hunger strikes — that it's about weight loss. They took the emphasis off of hunger strikes. It's a disguise," Xenakis said.
Xenakis added that the new protocol shows that Guantanamo medical personnel are not complying with the World Medical Association's (WMA) recommended procedures on how to deal with prisoners on hunger strike.
"There is nothing in there about respecting voluntary consent to refuse food," Xenakis said. "They [Guantanamo officials] are completely sidestepping WMA's advice."
According to WMA, if prisoners voluntarily refuse nourishment, and they are considered mentally capable of rational judgment, they shall not be fed artificially.
The SOP document contains entire pages that are redacted, Vice said.
The document, in fact, does not contain a description of the restraint-chair protocol, described in the previous document released in March 2013.
According to this procedure, prisoners were required to wear masks over their mouths while shackled in a restraint chair for as long as two hours with a tube snaking down a nostril.
In an interview at Guantanamo in December, Commander John Filostrat, director of public affairs for Joint Task Force-Guantanamo, told Vice the military stopped providing the media with the number of prisoners on hunger strikes because they had become adept at attracting attention to their cause.
"It's been a self-perpetuating story," Filostrat said. "It's [the strikers'] desire to draw attention to themselves, and so we're not going to help them do that."