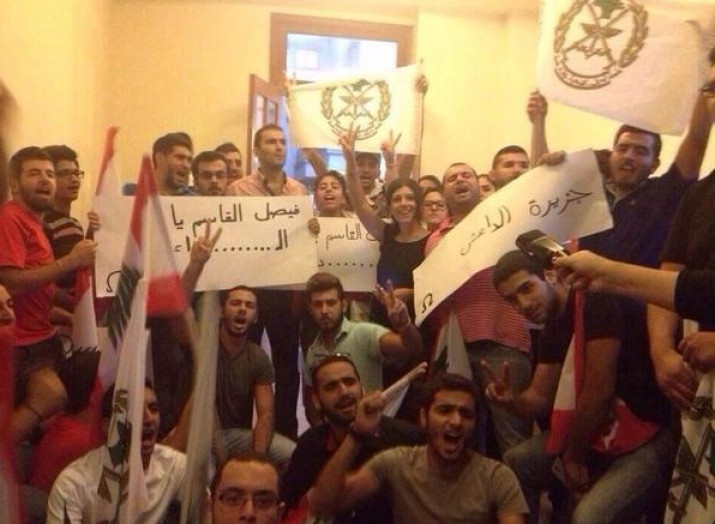 Lebanese army supporters stormed inside Qatar-owned Al Jazeera's Beirut offices on Sunday (28 September) after a journalist published photographs on Twitter mocking the army.
"A large number of citizens gathered outside Al-Jazeera's offices in Beirut," said the National News Agency.
The Agency added however, that the protesters "peacefully entered" the Al Jazeera building and "chanted pro-army slogans".
The protesters demanded the resignation of the journalist Faisal al-Qassem, who published the controversial photographs.
In the photographs, top Lebanese singers are seen performing right next to another picture that displays Syrian men who were rounded up in a raid in the border town of Arsal.
The photographs showing the detained Syrians sparked outrage amongst Syrian and Lebanese activists.
They're refusing to leave @AJEnglish offices until Faisal al-Qassem apologises for 'insulting' Lebanese army #Beirut

— Antoun Issa (@antissa) September 28, 2014
The Syrian detainees were held for over a month after a battle in Arsal between Lebanese army and jihadists from across the border from Syria. The pictures were headlined: "The successes of the Lebanese army". A Lebanese army official said that the protesters were "young citizens who support the army. They are simply carrying Lebanese flags and calling on Qassem and Al-Jazeera to apologise. There is nothing sectarian or dangerous about what is happening. The army is a patriotic institution." Social media activists were quick to weigh in.
@diaahadid @AlJazeera Honestly, I would not waste any energy on what Faisal al Qassem said, the man's working for a propaganda machine — Hani Bathish (@hanibathish) September 28, 2014
What's the Lebanese government waiting for? Cancel Al-Jazeera already and declare Faisal Al-Qassem 'Personna non grata'.

— Arab Secularist (@ArabSecularist) September 28, 2014