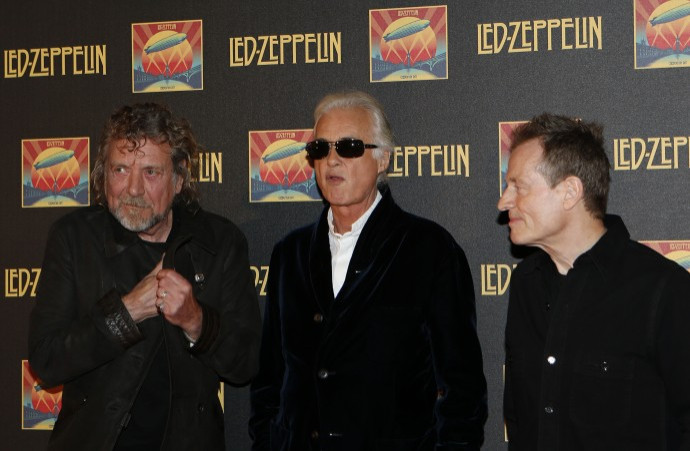 Members of British rock band Led Zeppelin have appeared in court to defend themselves against accusations that they stole the opening cords from another song for their classic Stairway To Heaven. Frontman Robert Plant, 72, and guitarist Jimmy Page, 67, who wrote the 1971 classic, are expected to give evidence at the civil case in Los Angeles.
They are accused of lifting the song's opening notes from Taurus, a 1967 track by the band Spirit, and are being sued by a trust acting for a founding member of the group, who died in 1997.
The case began yesterday (14 June) with the jury being played various versions of both songs, including part of Led Zeppelin's recording of Stairway to Heaven.
In his opening statement, the plaintiff's lawyer, Francis Malofiy, said the case was simply about giving "credit where credit is due" rather than winning damages. He is seeking a mere $1 settlement along with a writing credit for Spirit guitarist and composer Randy California, real name Wolfe. California's trustees would then receive future profits from "Stairway to Heaven".
However the band's lawyer Robert Anderson insisted that the two men "created Stairway to Heaven independently without resort to Taurus or without copying anything in Taurus".
"No one owns common musical elements," Anderson said at the copyright infringement trial in Los Angeles federal court.
But as the proceedings got under way, there were suggestions of a possible mistrial following a dispute over whether a video played as evidence had been correctly submitted to the case.
The case comes months after Marvin Gaye's family won a landmark copyright lawsuit against Robin Thicke and Pharrell Williams over their single Blurred Lines. In 2015, Gaye's estate were awarded $7.4m (£5.2m) in damages.
Led Zeppelin found fame in the 1970s and are one of the bestselling heavy rock groups of all time. Rumours of a Led Zeppelin reunion have circulated frequently ever since the band split up in December 1980. Their most recent performance together came in 2007 when they headlined the Ahmet Ertegun Tribute Concert at the O2 Arena in London.