A team of 12 police officers and a dog searched a Herefordshire pub in the belief it contained the legendary Holy Grail - but were disappointed to discover it was just an old salad bowl.
The Nanteos Cup - said by some to be the cup Jesus drank from at the Last Supper - had been reported missing last month after burglars broke into the home of a woman on the England-Wales border. The woman had been lent the chalice because she was seriously ill and believed the cup had healing qualities.
Acting on a tip-off that pub employees had the cup, police raided the Crown Inn in Lea, Herefordshire. All staff were locked inside as they searched the 15th century building. Landlord Michael Trotter told the Gloucester Citizen police even searched his baby's pram and nappies. "They said they had intelligence our customers were drinking from it at the bar. But I certainly haven't seen it. If I had, I probably would have wanted to take a sip out of it for eternal youth, too."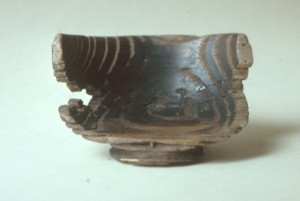 A West Mercia Police spokeswoman said: "We were told it was still there and so executed a search warrant to try and find it."
Crown Inn landlady Di Franklyn was somewhat bemused at the suggestion one of the world's holiest relics might be in her pub.
"I was amazed to see so many police," she said. "They said they had been given information that this Holy Grail had been shown off by someone here. But if somebody had stolen something as priceless as the Holy Grail I don't think it would be on show in my pub. But the police were taking the information very seriously because there were so many of them including a police dog handler."
Legend has it that Jesus's blood was captured in the cup when he was interred, then Joseph of Arimathea brought it to Britain. Monks took it to Nanteos Mansion in the reign of Henry VIII and it then came into the hands of the Powell family, who kept it in a bank vault. Despite the claims, when tested by experts from the Royal Commission on the Ancient and Historical Monuments of Wales they dated the cup from the late Middle Ages.