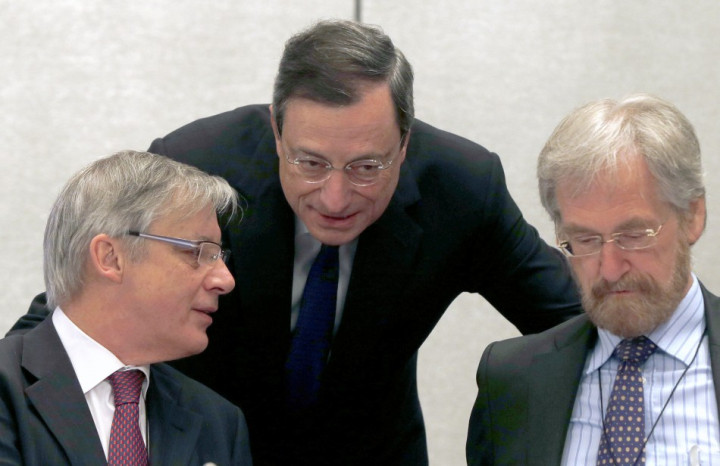 The European Central Bank's Chief Economist has said that the eurozone debt crisis is worse than the events surrounding the collapse of Lehman Brothers.
Speaking at a financial conference hosted by the Banco de Portugal in Lisbon, Peter Praet said that two years of European sovereign debt turmoil have made the situation "more profound and more fundamental" than the events that toppled the infamous US investment bank in 2008 and plunged the world into a global credit crisis and a prolonged recession.
Although his office in Frankfurt was unable to verify the comments as he was speaking "off script", Praet, who is also an ECB Executive Board member, was also quoted by the Reuters news agency as claiming the proposed "Basel 3" rules on bank capital requirements will add further pressure on economies that are already struggling to entice new lending and generate growth and employment.
Praet, who has called for deeper Europen integration on several occasions, repeated this view in Lisbon, saying last month's Leaders' Summit "recognized that construction of the Eurozone has to be improved" and that this is a "very important step".
Praet's comments will likely provide a even greater sense of urgency to today's Eurogroup summit of Finance Ministers in Brussels which comes amid renewed market turmoil after last month's European Leaders' Summit, which failed to draw a definitive line under the on-going crisis which threatens to further envelope Spain and perhaps being to impinge upon Italy's ability to fund itself for the remainder of the year.
Spain's benchmark 10-year borrowing costs surged past 7 percent again this morning to a Eurozone record high of 7.10 percent as investors continued to doubt the debt-stricken nation's ability to stabilise it staggering financial sector and tame the spending habits of its semi-autonomous regions.
Government spending has increased by 12 percent this year while interest payments have risen by nearly a third as a result of Spain's return to recession and the spiralling rise of its borrowing costs on international markets. As a result, Eurozone finance ministers are expected to give Spain and Prime Minister Mariano Rajoy an extra year - until 2013 - to meet a European Union-mandated deficit target of 3 percent of GDP.