Lewis Hamilton confident of Mercedes' 2017 title challenge after 'amazing meeting' with Toto Wolff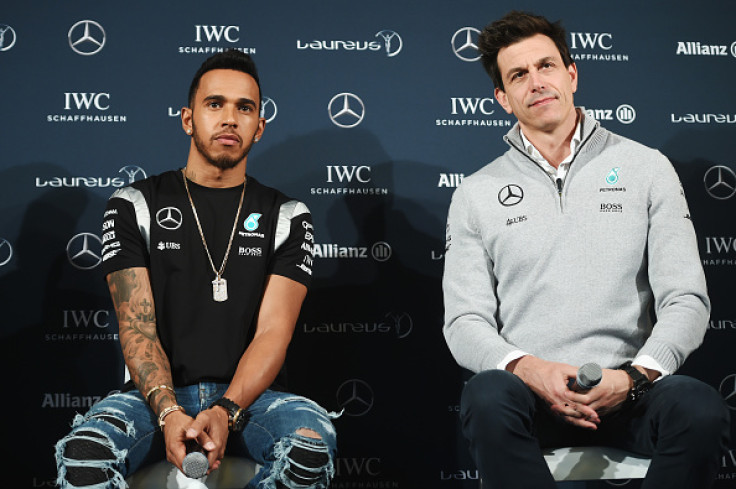 KEY POINTS
Hamilton missed out on his fourth drivers title by five points to now former teammate Nico Rosberg.
Rosberg announced his retirement from F1 five days after winning his maiden drivers' championship.
Lewis Hamilton is confident that Mercedes will continue their dominance in 2017 despite the rule changes that are expected to shake up the grid. The Mercedes driver revealed that he had an "amazing meeting" with team boss Toto Wolff at his residence.
The Briton missed out on his fourth Formula One drivers' title to Nico Rosberg by five points, but is confident that he will be fighting for the title next season. The German driver, who won his maiden title this year, shocked the world by announcing his retirement with immediate effect just five days after his historic win at the Yas Marina Circuit in Abu Dhabi.
Rosberg's departure freed up a seat with the reigning champions and a number of drivers were linked to the vacant role. Valtteri Bottas and Pascal Wehrlein are the current frontrunners, but the Mercedes boss confirmed that Fernando Alonso was also under consideration to replace the German driver.
Wolff admitted that Mercedes were left compromised owing to his compatriot's late move, but revealed that they were willing to make a brave decision to chose his successor, which will be based on the driver's ability to match Hamilton in terms of pace.
The three-time world champion took to social media – the story section of his official Instagram account - to post two videos with the Mercedes motorsport boss. He made it clear that their main focus is to come back stronger in 2017 and continuing their dominance at the top of the grid.
"Hi everyone, we're in Toto's kitchen. We just had an amazing meeting. I just wanted to send you all a message out, let you know that we're going to be the strongest partnership next year, and we look forward to fighting for this championship again. Hope you're all well," Hamilton said in the video posted on his Instagram account, as quoted by ESPN F1.
"Hi everybody. We spent a good couple of hours together, we had a really fantastic meeting. We'll be coming back so strong in 2017," Wolff added in the second video posted by the British Formula One driver.
© Copyright IBTimes 2023. All rights reserved.