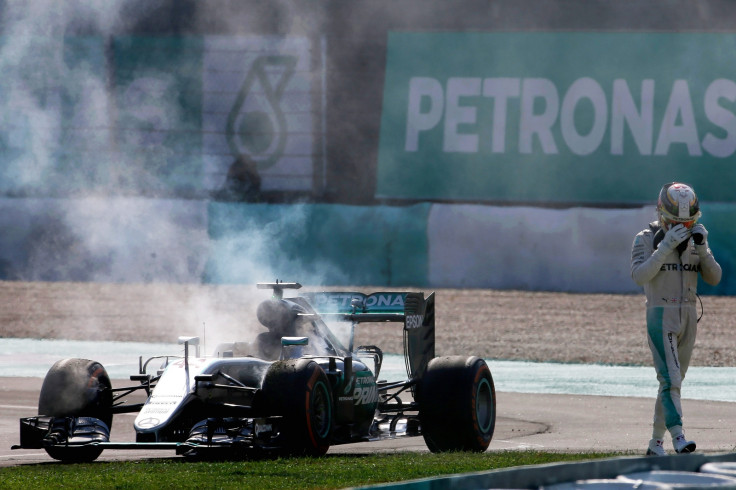 Lewis Hamilton has turned on his Mercedes team by indicating he is the victim of sabotage in attempts to win a fourth world drivers' championship. The Briton suffered engine issues for the third time this season when his car burst into flames during the Malaysian Grand Prix – an incident which allowed teammate and title rival Nico Rosberg to open up a 28-point lead with five races remaining.
The 31-year-old was raging as he was forced to abandon the race and his comfortable lead after 41 laps. The withdrawal allowed Daniel Ricciardo to claim victory, with German Rosberg finishing third to pull further ahead of the reigning champion heading into the final weeks of the campaign.
Hamilton has already become a victim of engine trouble at grand prix in China and Russia, which then led to a grid penalty for the race in Belgium. The former McLaren driver is suspicious of the source of the issues, given his is the only car to suffer problems while Rosberg and the other three teams backed by the Mercedes unit are devoid of technical problems
"Someone doesn't want me to win this year," he said, according to The Guardian. "We have so many engines made for drivers but mine are the only ones failing this year. Someone needs to give me some answers because this is not acceptable. I just can't believe that there's eight Mercedes cars and only my engines are the ones that have gone this way. Something just doesn't feel right. It was a brand-new engine. It's just odd. Only mine have gone."
The comments will encourage the conspiracy theorists who believe the Mercedes hierarchy want to deliver a home-grown world champion for the German manufacturer, though the team are based in Brixworth, Northamptonshire. Force India, Williams and Manor all use the Mercedes engine but the trio have all avoided suffering engine problems.
The Mercedes engine has been the much-have item on the grid and has been among the most reliable; helping to deliver successive world titles for Hamilton in 2014 and 2015. Ex-McLaren driver turn-pundit David Coulthard says talk of talk of Mercedes conspiring against their premier driver is nonsense.
"The notion that they would favour a pseudo-German driver (Finnish father, German mother, born in Germany, raised in Monaco) because they are apparently a 'German team' – remember they are actually based in Northamptonshire – does not make sense," he told The Daily Telegraph. "No amount of Nico winning this championship will make the same global impact as Lewis winning a fourth title. It will not take Nico to one third of the global recognition and media value that Lewis has. It just won't. Even if Nico won four titles to Lewis's three, it would not make him a more highly-prized asset."