Formula One's reigning world champion Lewis Hamilton has called on the drivers and other members of the F1 grid to ease their criticism on Red Bull Racing's latest prodigy Max Verstappen and 'give him a break'. The young Dutchman has come under the spotlight due to his aggressive driving style, which has infuriated few drivers in the paddock.
"Firstly, give the guy a break. He is 18 years old, and what the frickin' heck were any of us doing at 18?" Hamilton said, as quoted by the Daily Mail.
"He has won a grand prix, and the pressure on his young shoulders is something most people will not be able to comprehend. He is young and he is learning.
"I don't know what I would have been like at 18, but I would have made lots of mistakes. I just see a young, talented kid who seems to have an enormous amount of raw talent."
Ferrari drivers Kimi Raikkonen and Sebastian Vettel are the two who have taken offence to some of Verstappen's actions on the track during last weekend's Belgium Grand Prix. The Dutchman looked to have deliberately left his decision to block the Finn's move to pass him to the last minute, which needed the latter to take evasive action to avoid a collision. He had a similar altercation with Vettel later in the race.
Both the Maranello team's drivers wished to have a chat with the youngest driver on the grid during the ongoing race weekend at Monza, while Verstappen refused to bow down to the pressure. He insisted that he will not change his driving style to please other drivers believing that he did not flout the rules, which indicate that a driver can make only one move while defending from a car that is attempting an overtaking move.
The matter, however, has escalated in Italy with Red Bull chief Christian Horner confirming that FIA race director Charlie Whiting had given the driver a gentle warning about his actions ahead of the Italian Grand Prix. Hamilton has now called on the grid to go easy on the 18-year-old by claiming that everyone makes mistakes at such a young age.
The three-time world champions agrees that his moves on Raikkonen were dangerous, but believes it is a learning process. He accepts that being aggressive is part of racing, but wants drivers to race sensibly and respectfully.
"I have seen a couple of videos of Spa, and some people will question it. The one where he ran Kimi off, that was an interesting one, but that's just him learning. He is a young aggressive driver," the three-time world champion explained.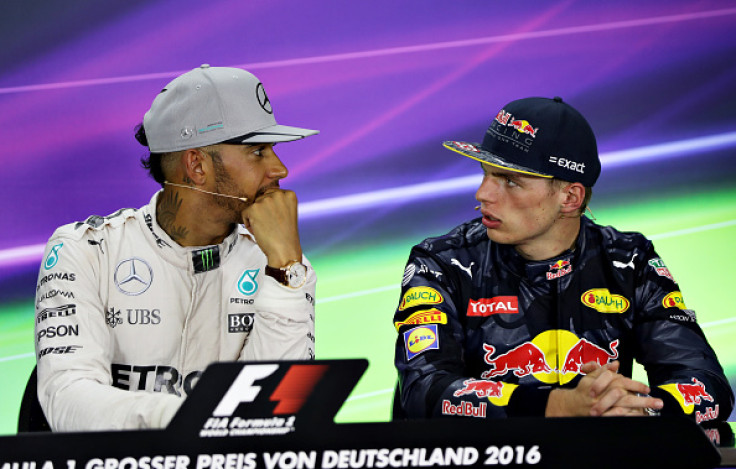 "There has to be a fine balance. We could all go out there and be reckless. You have to be aggressive, but also race sensibly and respectfully.
"I have driven with people in the past where there was a guy in front who was a complete psycho. It was like 'what the hell is this guy thinking?'. Maybe that is what they are commenting on."