The future of low-cost housing is in Ladywell, south London. At 261 Lewisham High Street, to be precise.
Called PLACE, the scheme is 24 residential units able to house 96 people on the site of a demolished leisure centre. There's even room for eight commercial spaces for local businesses at the bottom. But labelling the flats mere "units" doesn't do them justice.
"I think this is astonishing," said Councillor John Muldoon, a Labour member of Lewisham council. "I've seen similar projects elsewhere... but nothing like this."
The project was designed by the architecture practice Rogers Stirk Harbour + Partners on behalf of Lewisham council, which owns the land, and is a "short-term solution" for the problem of homelessness in the area.
These aren't boxy bedsits where vulnerable families are simply warehoused without dignity or respect, and then forgotten about by the local authority. They are desirable, spacious, well-insulated, modern homes. They're prefabs — or "modular homes" in architect-speak — built offsite in a Derbyshire factory, then driven on a lorry down to London and assembled like giant Lego – all in just three months.
"Speed was key with this project," said Lucie Olivier, senior architect at Rogers Stirk Harbour + Partners. "It was really important to get something that happened quickly while keeping really good quality as well... Very simply, all the units come fully finished internally and externally, and [are] stacked together. You can build a floor a week, so it goes up really, really quickly."
Each two-bed flat is made from two containers, which are connected during the build. They come with all the plumbing and electrics done at the factory. Inside, they have full-height windows and doors and high ceilings, adding depth to the sense of light and space. In fact, they're 10% larger than the typical space standards for new council homes of their type, coming with bigger bedrooms and more storage.
And being made in a factory, they are much tighter than an ordinary home, meaning better acoustics and fewer gaps for the warmth to escape from. "What was important for us was that the standard was as high as for any development," Olivier said. "We wanted to provide the best accommodation that we could."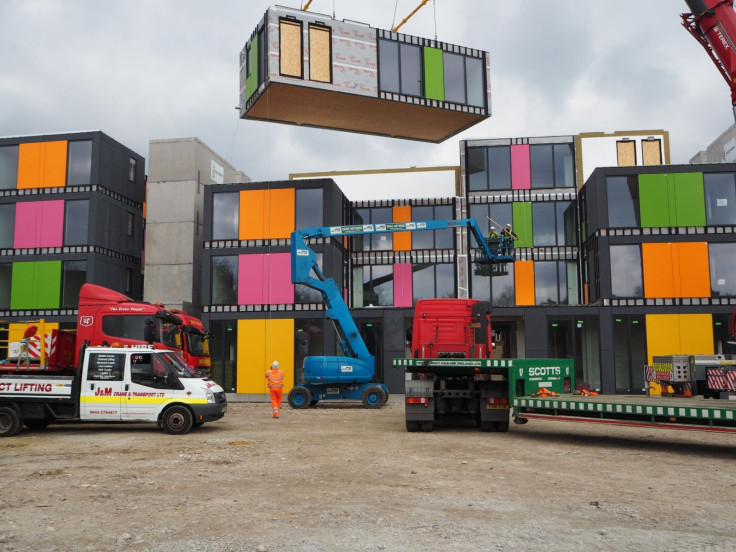 Despite their shelf-life of 60 years, these are only temporary homes for the current residents at PLACE. They are being used to house homeless families waiting to find a permanent residence, either with the council or in private rented accommodation. There were 769 households accepted as homeless in Lewisham in 2014-15, according to government statistics. There were also 394 households in temporary accommodation living outside of the borough, and 1,330 within.
Permission for the units only lasts until 2020 because the council plans to regenerate the site of the old leisure centre, which had been demolished. But this isn't really a problem. The units can be disassembled and then reassembled up to five times. And that's what will happen. The whole project will be taken apart and rebuilt at another temporary site when the time comes.
While the project cost Lewisham just under £5m, it will save the council money on expensive costs such as stays at B&Bs and temporary storage for the homeless families' belongings. The council is projected to make its money back within a decade.
"I think our mayor showed great vision by coming forward with this idea," said Councillor Muldoon. "It's 20-30% cheaper than a traditional build, and it meets the need of homeless people, people on the housing list, while they wait for a permanent offer of somewhere to live."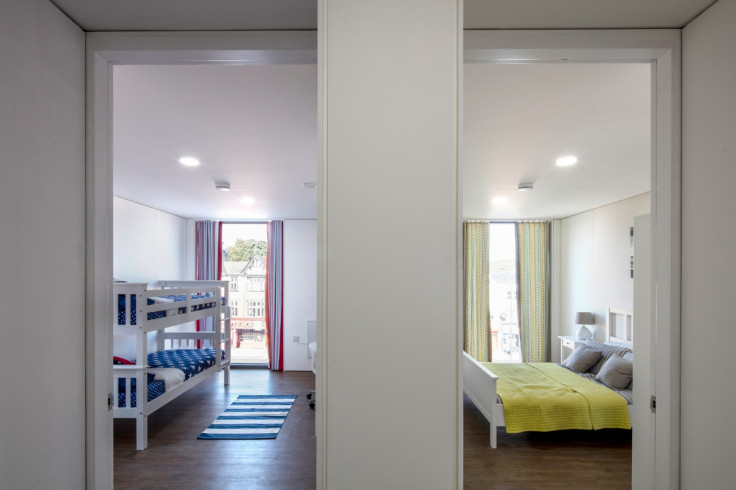 Making the money back could have come sooner had the council's project managers decided not to choose small local firms for the commercial space. Bigger, well-known corporates, like supermarkets, would have paid more in rent for premium floorspace on Lewisham High Street.
But that's not what PLACE is about. The charity-run Good Hope Cafe downstairs has become a community hub for residents, and there is also a florist and a clothes shop, among other small businesses run by locals, for locals.
"I'm getting local people coming in and saying 'oh my gosh, I've got a wedding coming up', which is what I love," said Ann-Marie Litchmore from nearby Deptford, who has one of the retail units for her business, Flowers by Ann-Marie.
"Because I'm trying to say to local people, I can provide your wedding services, I can do flowers for your funeral, and I can be a florist here in Ladywell, in Lewisham High Street, so that's what's good about being here. I can get the clientele from here."
This is a prototype of a concept that could be applied across anywhere in the country with temporarily unused brownfield land.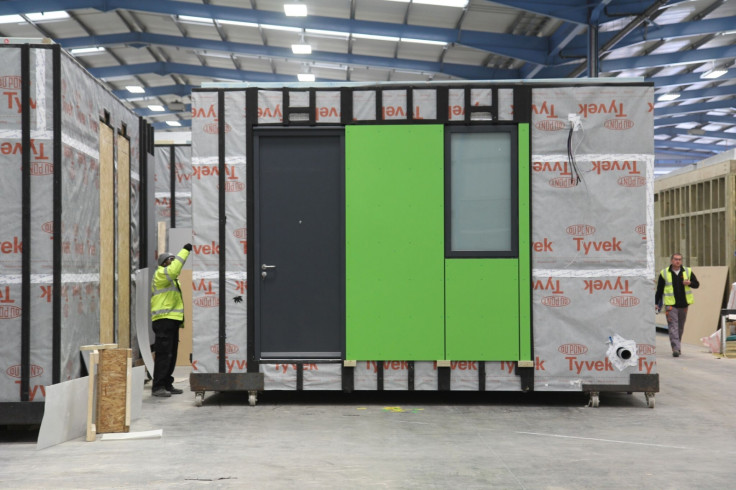 For example, developers could put their landbanks to work in the time between them purchasing the land and starting the construction work for which it is intended, which can take years, by making use of prefabs. This provides much-needed rental housing, and delivers an income stream for developers, at a relatively low cost.
The lesson of PLACE is that with all the technology and unused land at our disposal, and a housing crisis to solve, we can and should be doing more to provide decent homes for people, especially the homeless. Harnessing modern construction techniques to deliver quality temporary housing at a low cost on land otherwise going to waste will go some way to achieving this.
But beyond temporary housing for the homeless, prefab technology should revolutionise construction in the UK. We have been too slow to adapt, yet we face enormous challenges.
Modular construction in factories can be an answer to the painful shortage of traditional construction skills. Prefabs are cheaper and much quicker to build, so more homes at a lower cost can be delivered much faster than what is currently normal.
And they are not the same as their ugly-but-functional ancestors from the post-war period. As Olivier put it, the modern prefab is "intelligent, high quality, more sustainable, and a place that you would want to live, actually. And I think good examples like this will really change things for everybody."
As PLACE shows, quality doesn't have to be compromised by speed and cost. Prefab is just a better way of building the homes we need.