LG has shown off three new smartphones ahead of their official launch at Mobile World Congress next week, with three new phones aimed at the budget end of the market.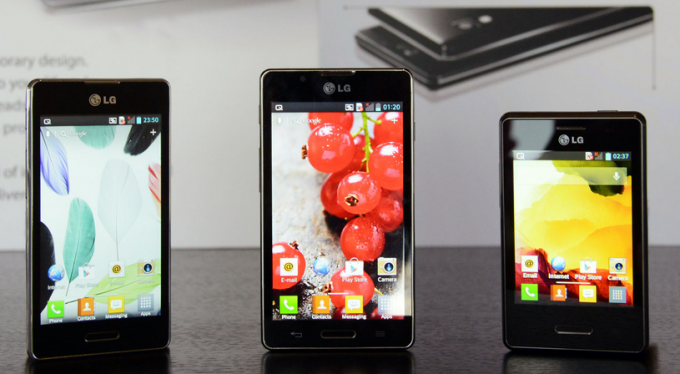 The new Optimus L Series 2 range includes the Optimus L7 2, L5 2 and L3 2, with all three looking similar to their predecessors, but replacing the sharp, squared-off edges of old with softer, rounder corners.
LG has only announced technical details for the flagship L7 2, which has a 1GHz dual-core processor, 4.3in display, 8-megapixel camera, runs Android 4.1 Jelly Bean, has dual-SIM capabilities so you can install two SIM cards.
The Optimus L7 2 goes on sale in Russia this week, with LG saying that it will reach other markets soon, and there is no release date yet for the rest of the updated range.
With specs like that, LG isn't looking to rival Apple's iPhone or much of Samsung's Galaxy range, but buoyed from a successful fourth quarter that saw the company's smartphone division post revenues of $2.58bn (£1.65bn), up six percent on the same quarter last year, LG will be confident of the new phones being popular with consumers on a budget and in developing markets.
LG shipped 8.6 million smartphones in the fourth quarter of 2012, while overall mobile phone shipments came in at 15.4 million units. This is down from the 17.7 million shipped in the same quarter of 2011, but the growth in revenue for 2012 suggests that an increase in smartphone sales has counterbalanced the drop overall.
LG did not break down the 17.7 million figure for Q4 2011, so it is impossible to say how many of these were smartphones, compared to cheaper feature phones.
Although the Optimus L7 2 has fairly mediocre specs, the battery capacity stands out; at 2,460 mAh, it is significantly larger than the 1,440 mAh unit installed in the iPhone 5, promising impressive battery life for the new LG.
Little else is known about the smaller L5 2 and L3 2 phones, other than the screen sizes, which will be 4in (800 x 480) and 3.2in (320 x 240) respectively, and that the phones will have batteries of 1,700 mAh and 1,540 mAh.
In late January LG finally said that its 4.5in Optimus G would be coming to the UK, almost six months after the quad-core 4G handset was first announced back in August.
Priced at over £500 SIM-free, the Optimus G has the iPhone 5 and Galaxy Note 2 for company, and investors will be keen to see if LG can make a name for itself at the sharp end of the smartphone market, or if it is better-suited to the cheaper second tier.
Last month we reported that LG may be making a return to Windows Phone, after a source from one of LG's Korean partners said the firm was planning a number of Windows Phone 8 devices for 2013.